Produced and Directed by Madeline Schaider Real Estate
Madeline Schaider recently sold a renovated Kott house in the Chapman Park area of Corte Madera. By directing an extensive renovation of this 1956 home and gardens, the house sold quickly for $1,050,000, more than the asking price of $1,029,000. The sellers received two good offers within three days, sold their house for a good price, and realized almost a 5-fold return on their investment in renovations.
Here are before and after photos: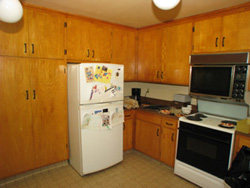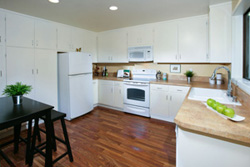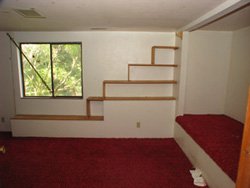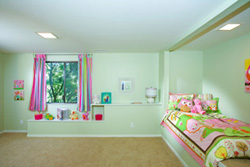 Kott houses were built during the 1950's according to a standard floor plan. Most had two small bedrooms on the entry level and one full bath. Signature steep stairs led from the living room to a large room on the upper level. The high-ceiling, beamed living rooms typically had dark, knotty pine paneling.
The Kott house at 1 Buida Court has several advantages. It is set on an attractive lot with redwood trees and a good orientation for all-year sun. The living areas have privacy and wide views of the hills and trees. Being on a small cul-de-sac, 1 Buida Court offers a perfect family setting. This house had been expanded to a total of four bedrooms and three full baths in 2,049 square feet.
Improvements, included:
Interior paint and all new flooring
Restoration of front and back yards
New electrical panels and light fixtures
Upgraded kitchen with new appliances and counter tops
Upgraded baths with new fixtures
New furnace and hot water heater
Deck repairs and paint
Staging
1 Buida Court is one more example that it pays to prepare a house for sale. Madeline Schaider Real Estate has the resources and experience to help you prepare your house, from simple cosmetic to major structural upgrades, and obtain the best selling price.