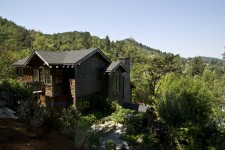 Chapman Park Neighborhood
Chapman Park, located to the south of Tamalpais Drive, was developed about 1900 as "villa sites for people of quality." The home sites begin on level land near Tamalpais Drive then gradually climb the hill, along winding roads, through beautiful woods of Redwood, California Bay, and Eucalyptus trees. Many sites have spectacular views of the Bay and Mt. Tamalpais, a few homes have views of San Francisco.
To Learn More About Chapman Park
Go to the Chapman Park page at Livinginmarin.com. You will find special features of this neighborhood and a photo tour of homes.