Baltimore Canyon, Larkspur, CA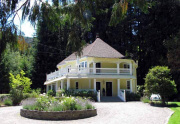 Baltimore Canyon is in the oldest part of Larkspur, with homes dating to the late 19th century and large stands of second-growth redwood trees. Situated between Magnolia Ave and Mt. Tamalpais open space, it provides a short walk to downtown Larkspur.
To Learn More About Baltimore Canyon
Go to our Baltimore Canyon Page at Livinginmarin.com. You will find special features of this neighborhood and a photo tour of homes.