Is the Market Changing–Or is The Sky Falling?
The buzz from media recently is that the real estate market is changing, and that we are moving toward a buyers' market with more choices, less competition, and lower prices. Local real estate agents are joining the parade either because it is easy to copy the media reports, or they hope to influence buyers and sellers to hire them.
Changing–Probably, Sky Falling–Unlikely
Our regular real estate market update for Marin takes a fresh look at the market from a close up perspective and a wide-angle view. We take the time to look carefully at the numbers, and we avoid the media hype and its tendency to slant the news toward the worst outcome. Please check our Marin market update for our latest analysis.
Here is a summary of the latest update, based on data from the Marin MLS and Freddie Mac (for mortgage rates):
The supply of Marin homes is relatively low and demand is high. Over the last six months the measures of inventory have increased slightly, but this could be seasonal. There are credible reasons to believe that demand will remain high and increase. These conditions favors a seller's market.
Selling Prices are still increasing. Comparing 2018 to 2017, the average selling price increased 5.7% and the median price 8.1%.
Mortgage rates have been deceasing since November 2018 and are at about 4.3% for a a 30-year fixed rate loan. This is a plus for buyers.
Based on our subjective impressions, we would say that the market is changing, but not in a dramatic way. We notice particularly that buyers are more discriminating in their choices. They want a house that looks great and is staged well. Buyers, young and old are focused on their lives and less interested in fixing up a house.
Yes, the world is changing, but the sky is not falling on the real estate market. We would like to see a market that is balanced–good for both buyers and sellers–with a reasonable, steady rate of appreciation.
Home prices as the Spring Market Begins
In the first three months of 2019, the number of homes sold was about the same as in 2018, 387 versus 408. Comparing selling prices in the first quarter of 2019 and 2018, the median was down 2.7%, to $1,101,800 and the average down 4.8%, to $1,348,355. Is this seasonal, expected variation, or does is it significant. Here are the median selling prices for the last 15 months: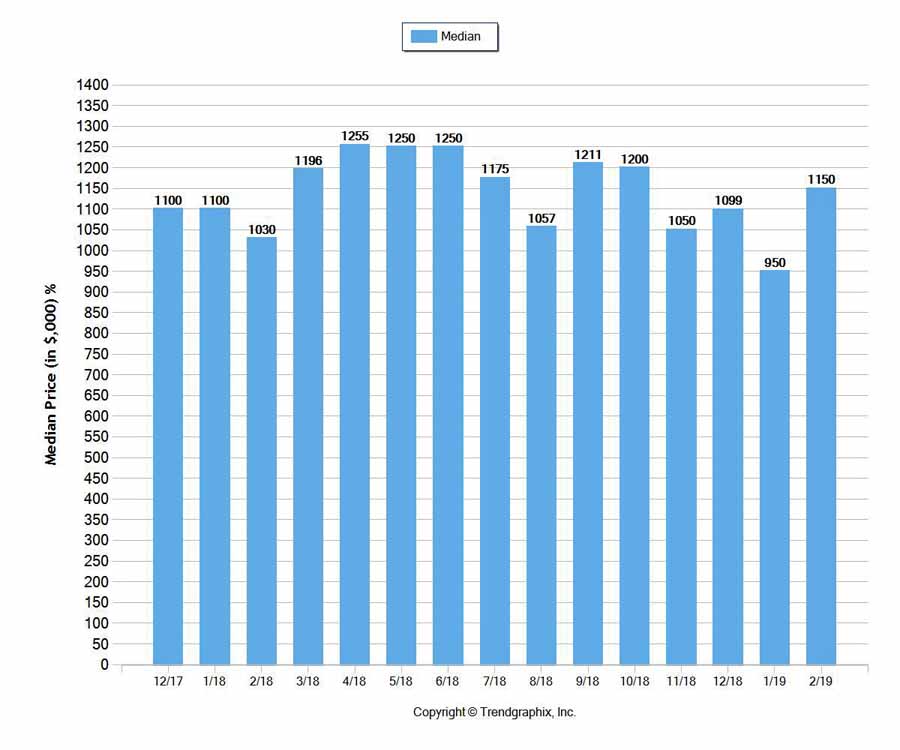 The graph indicates that a variation in the median price of 2.7% is well within the seasonal fluctuation. We can expect prices to increase as we go into April-June.