The Buck Institute in Novato introduces biomedical research to Marin children
The Buck Institute for Research on Aging reaches out to children in grades K through 12 with two hour laboratory experiences, or "field trips," and five day summer camps. Field trips are free to registered groups. Educational programs offer stimulating and fun content, and provide students with a better understanding of biology and life sciences.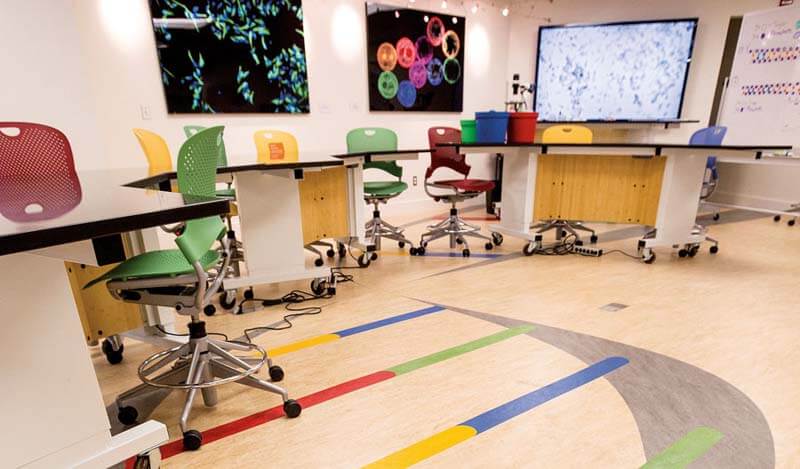 Field trips take place at the Buck Institute, in a special student laboratory, plus a tour of the professional research labs. Visits are usually from 10-12 am, and students can arrange to stay after the visit for lunch.
Free Field Trips at the Buck Institute
Free field trips are available for school classes, scout troops, and home school groups. You can submit an application for your field trip online.
Grades K-3
Many of the great advances in medicine have begun with studies of model organisms, like bacteria, yeast, fruit flies, and nematodes (tiny soil worms). Man shares much of its biology with these creatures, and it is much easier to study their biochemistry. During a field trip, students observe model organisms used at the Buck Institute. Each one has a fascinating story.
Grades 4-8
Student learn to extract DNA, the genetic information in cells. They also observe how yeast use sugar to produce energy and support growth. All living creatures share many of the pathways discovered in yeast.
Grades 9-12
Stimulation of stem cells to grow into tissues introduces an important method to study growth and regeneration. In another experiment, students learn how scientists use fruit flies to study aging.
Summer Camp Programs
Two different, week-long summer camps introduce students to basic methods in biomedical research. In both camps, the students do a research project and put together a presentation.
Model Organism Camp

June 24-28, 2019, 10 am–3 pm
Designed for students ages 12–14 years old
$400 for the week
Register
Participants learn to work with model organisms, like nematodes (C. elegans), fruit flies (Drosophila), bacteria (E. coli), and knockout mice (see more about knockout mice, below). Students also learn essential lab techniques, like using a microscope, accurately measuring with pipettes, and growing bacteria and nematodes in Petri dishes. For their research project, each camp group researches a non-model organism (like axolotls, a type of salamander that is unusually good at regeneration ) or another model organism (like the frog, Xenopus, an invaluable tool to study vertebrate embryology and development, basic cell and molecular biology, genomics, neurobiology and toxicology).
Model Organisms at the Buck Institute
Example Model Organism: Knockout Mice
This government-funded research program is producing cell cultures of mouse embryonic stem cells that will help define the function of every protein in a cell. Using genetic transformation techniques, each cell culture contains an inactive gene for a protein. Knocking out this gene may reveal defects that point to its importance in normal function and disease conditions.
The International Mouse Phenotyping Consortium of 18 institutions in 12 countries have produced and studied nearly 2,500 knockout mouse lines, including models for human diseases ranging from Parkinson's to cancer. UC Davis is the center of the Knockout Mouse Consortium in this country.
The Buck Brain Camp
July 8-12, 2019, 10 am–3 pm
Designed for students ages 10–12 years old
$400 for the week
Register
In the Brain Camp, students are introduced to how their brains work at both the structural and cellular levels. To understand the types of nerve cells, students make models and informational cards. For their research projects, each group investigates a different neurological disease.
Buck Institute Immersion Program
July 15-26, 2019, 10 am–3 pm
For high school students entering grades 10-12
$800 for two weeks
Registration opens: January 10, 2019 7:40 am
Registration closes: July 12, 2019 11:55 pm
Scholarships are available.
The program is designed to give students practical, hands-on experience in scientific research, while surveying the latest techniques used here at the Institute in our aging research. In this program students practice basic biotechnology techniques like transforming bacteria and separating molecules on gels. They also talk to scientists at the institute, and read and present a research paper about aging.
Lifelong Learning Programs
The educational program is soon expanding to include lifelong learning programs for adults. The first 6 week program dealing with the biology of aging for a non-scientific audience, now sold out, begins on March 14. You can sign up for the waiting list or for information about future programs.
Contacts
For more information, contact the Buck Training Center at Learningcenter@buckinstitute.org or 415-209-2000 x6161.