Yolanda and Calumet Park Homes, San Anselmo, CA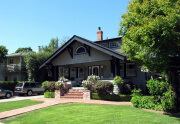 This small neighborhood in San Anselmo may be the most picturesque and charming in Marin, with romantic architecture, magnificent trees, wide streets, intimate lanes, and views of Mt. Tamalpais and grass covered hills.
Learn More about Yolanda and Calumet Parks
Go to our Yolanda-Calumet Park page at Livinginmarin. You will find special features of this neighborhood and a photo tour of homes.