Spring is the time to check your house, particularly the exterior, for the effects of winter weather.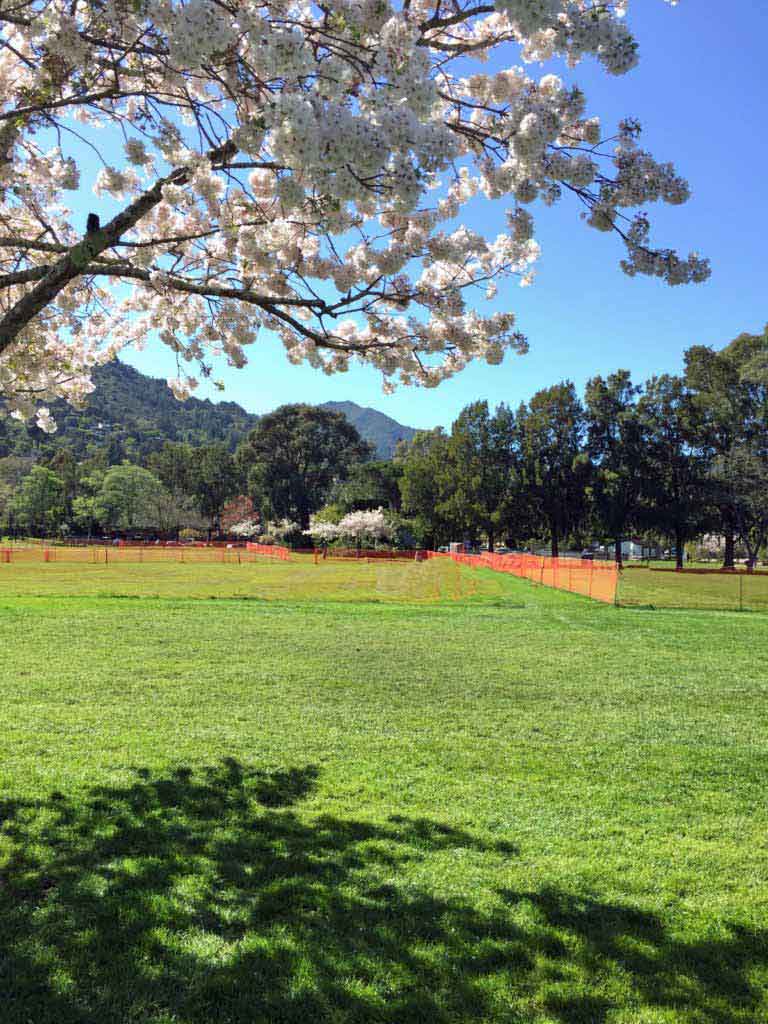 Check your rain gutters and downspouts. Looking up at the gutters, do you see loose joints, holes, or rust? Clean out the gutters and repair or replace as needed to prevent leaks next year.
Check the drainage from downspouts. If you can, run water from the gutters through downspouts to check that they are clear and draining freely. Is there erosion at the bottom of downspouts? If so, make sure the water coming down has somewhere to go and does not pool near the house. Water standing near the foundation of your house can cause long-term damage. If you have standing water, consult with a drainage contractor.
Sometimes downspouts attach to underground drain pipes. Check that the underground pipes are working correctly by filling them with water from a garden hose. Often you can hire a plumbing company to open up blocked drain lines using a power rooter.
Check the drainage around and under your house. If there are signs of standing water near or under your house, we can recommend a drainage contractor to evaluate and propose solutions. You may have to change the slope of the ground next to your house, install a French drain to divert water away from your house, or install a sump pump to remove standing water.
Check the siding and around window frames for cracks and open joints.
Before the rain comes again, calk cracks that have appeared in the siding and trim. Consult with a local paint store to find an exterior calk that will not shrink or peel. Don't waste your time using an inexpensive calk. Some experts recommend polyurethane calk or calk with 80% or more solid content. If siding and trim is cracked or loose, you may have have to nail or replace it.
Note: most horizontal siding is meant to remain open at the bottom of each board; don't calk these openings.
Check your roof for damage. You may have loose shingles or cracks in the calking around vent pipes and skylights. If you need a roofing contractor, call soon to set up an appointment; the good ones are usually booked for a month or more.
Check interior of windows for water damage. Leaking around windows and window frames may show up as damage to sheet rock or window sills. Check the exterior calking and window seals. Correct interior damage. Note that some damage could be due to condensation on the inside of windows. In any case, it is best to check the exterior of the windows for leakage.
Clean leaves and debris that have accumulated during the winter:
Remove from decks and from between the joints of the deck boards.
Remove from gutters.
Remove from the outside of the foundation. Make sure there is no dirt or debris in contact with the siding or stucco. This is an easy route for moisture and pests to invade your house.
Reseal decks with water repellent stain or clear sealer. Unfortunately, deck stains may last only one year or less. Staining your decks prevents the wood from cracking in the summer sun.
Check your irrigation system. Turn on your irrigation system and correct breaks in the lines and defective spray or drip heads. Remember, the ground can dry out quickly after the rains stop. Once the soil is dry, it is difficult to get water to the roots of your plants without excessive irrigation. It is best to prepare your irrigation system to start up before the hot weather.
Call us if you need help
If you are overwhelmed or puzzled, or just out of time and need help, contact Madeline. We can advise you, free of charge, and recommend services to help.