Marin Home Values | March 2019
The Marin housing market is changing, and some experts believe that it is moving from being strongly in favor of sellers to a balanced market, where both buyers and sellers get good deals. Predictions of the changing market come from these considerations:
Supply and demand
Number of new listings
Number of sold homes
Inventory
Selling Price versus List Price
Median Sales Price
Mortgage interest rates
We agree that the market is changing, but it is easy to manipulate numbers and graphs to make an argument for or against almost anything. We looked carefully at the numbers and will present the picture as accurately as possible, from a close-up to a wide-angle view. Hopefully, this will come close to reality and will be useful to you in planning your home sales and purchases.
Demand and Competition for Marin Homes May Increase
The supply of Marin homes is limited, based on these factors:
More older homeowners choose to stay in their homes and make adjustments for limitations in their life styles. This trend temporarily reduces the number of houses for sale.
Construction of new homes is minimal. Over 80% of Marin is dedicated to open space and agriculture (see Limited Housing Potential). At this time, only about 3% of the land is available for development.
Demand is likely to increase in the future. The job market in the bay area, and particularly San Francisco, continues to support a large number of financially qualified buyers. The New York Times recently observed (March 7, 2019) that "Thousands of New Millionaires Are About to Eat San Francisco Alive." Soon, The Times observes, Uber, Lyft, Slack, Postmates, Pinterest and Airbnb plan to go public, making many of their employees and stockholders wealthy.
The same article cautions that young high-tech workers prefer to live simply and close to work. While they may want to stay in San Francisco and close to work, history demonstrates that having children brings the desire for better schools, homes with yards, and the open space available in Marin. As these homeowners decide to move north, the competition for Marin homes will remain high.
New Listings and Sales Go Through Expected Cycles
Overview
The number of houses for sale has decreased steadily for five years. However, there was no significant slowdown in sales over the last three years, up to February 2019. The peak months ahead, April-July, will tell us more about sales. Using these metrics, there has not been a dramatic or unexpected shift in the market.
The Numbers: New and Sold Listings
In 2018, new listings peaked in April-May and again in September. Closed sales came a month later. December showed the usual drop in new listings.
New listings in January and February 2019 were much lower than the year before, but sales about the same. The drop in listings in 2019 is probably due to the weather. Properties do not show well in the rain, and buyers are less motivated to shop.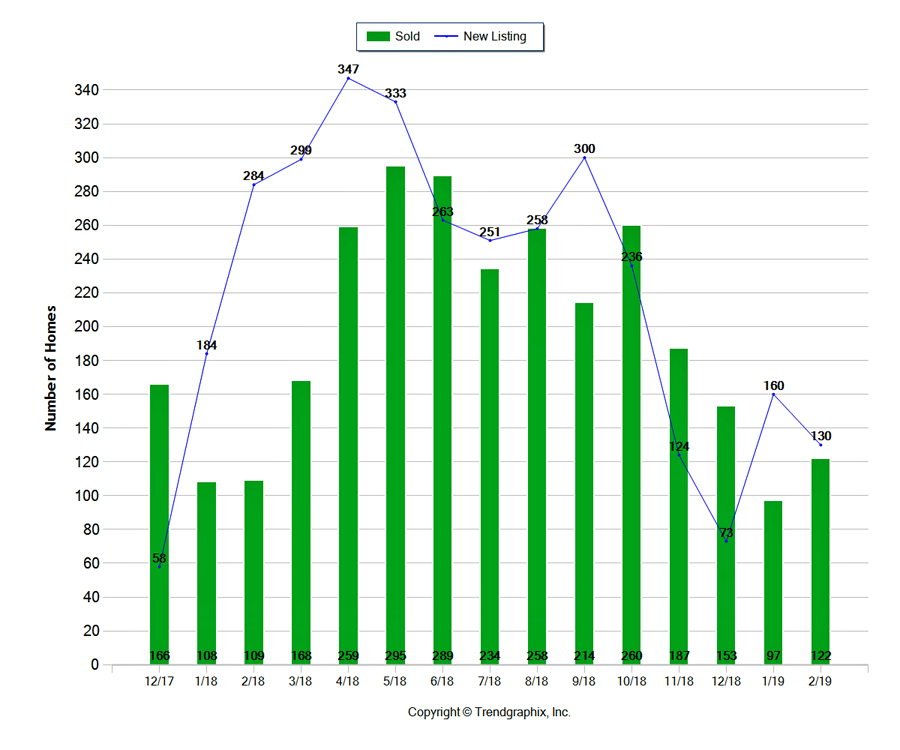 The last five years of home sales (see below) show seasonal fluctuations similar to 2018. However, you can see fewer homes listed each year. This is consistent with our previous reports of deceasing inventory.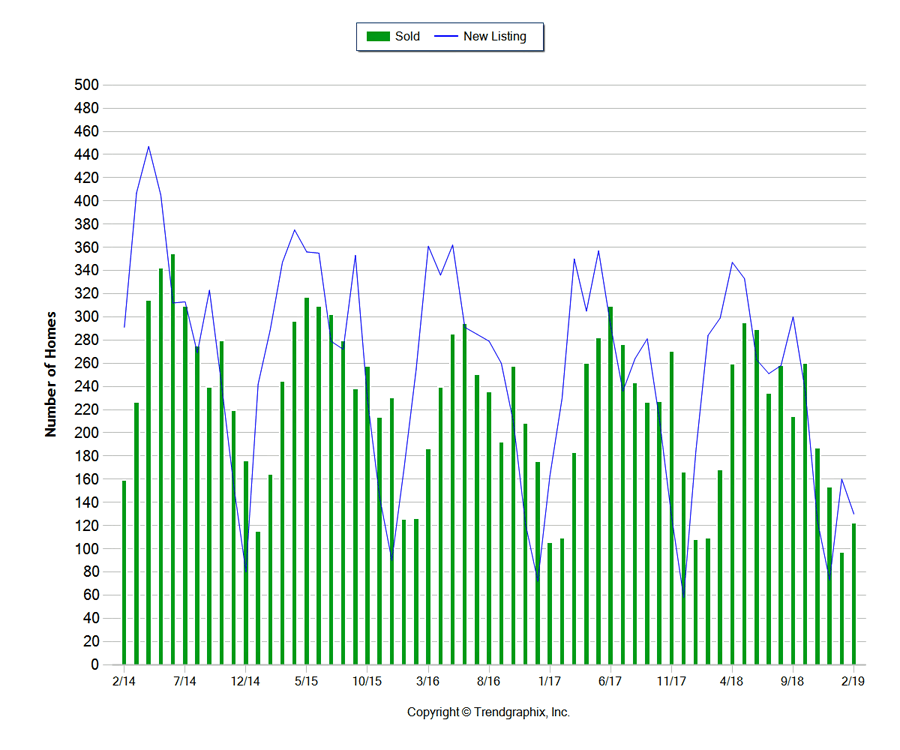 The number of sales in the first two months of 2019 were similar to the previous three years. Sales over the past six years (table below) shows a fluctuation up and down in the number of homes sold, with an an overall 11 % decrease. This decrease reflects the drop in the number of homes for sale.
| Year | Number Sold | % Change |
| --- | --- | --- |
| 2013 | 3,148 | |
| 2014 | 3,032 | -4% |
| 2015 | 2,972 | -2% |
| 2016 | 2,739 | -8% |
| 2017 | 2,902 | +6% |
| 2018 | 2,786 | +4% |
Inventory as Measure of Supply and Demand
Months of Inventory is a measure of the time it takes to sell the houses that are on the market.
Overview
Months of Inventory is probably the best predictor right now of a changing market. The current higher inventory indicates movement toward a balanced market, but far from a strong buyer's market.
The Numbers: Inventory
Over the past seven years, Months of Inventory has varied from a low of about 0.9 to a high of about 2.5. The general guideline is that Months of Invent below 3 indicates a seller's market and above 6 indicates a buyer's market. A value of 2.9 is unusually high, but still well below the indicator of a buyer's market.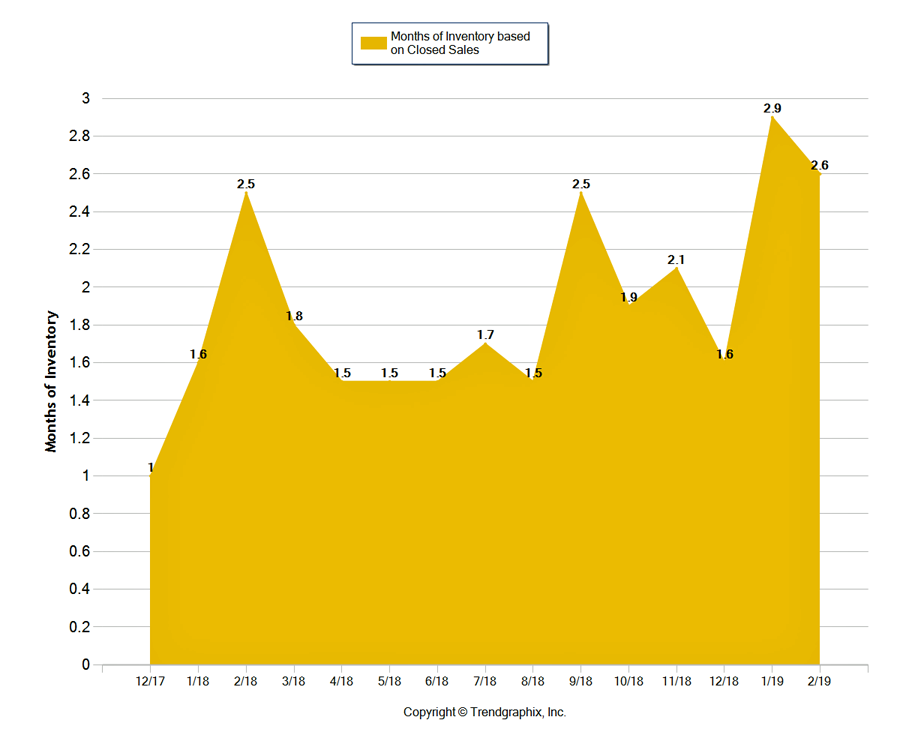 Selling Price versus List Price
The average selling price compared to the original list price indicates buyer interest and realistic/unrealistic pricing. If selling prices is more than 100% of asking price, there were probably more multiple offers and fewer price reductions.
Overview
Average recent selling price compared to original list price does not show an unusual shift in buyer activity. Seasonal shifts are consistent with previous years since the real estate market recover in 2012.
The Numbers: Selling Prices/Original List Price
Selling prices compared to original list prices dropped to a low of 92% in January 2019 for homes that were listed a month or more earlier. A similar drop occurred in in January 2018 with a recovery March through June. There have been similar fluctuations for the past seven years. We will see if selling prices rebound to the usual 100-101% levels in the next few months.
Selling Prices Increasing
Overview
Selling prices are increasing at a significant rate, indicating continued buyer interest in Marin homes.
The Numbers: Selling Prices
Average and median selling prices increased significantly in 2018 compared to the previous year.
| Year | Average Price | Median Price |
| --- | --- | --- |
| 2017 | $1,398,001 | $1,090,000 |
| 2018 | $1,477,903 | $1,179,000 |
| % Change | +5.7% | +8.1% |
Median selling prices have increased steadily since the spring of 2013, with seasonal fluctuations.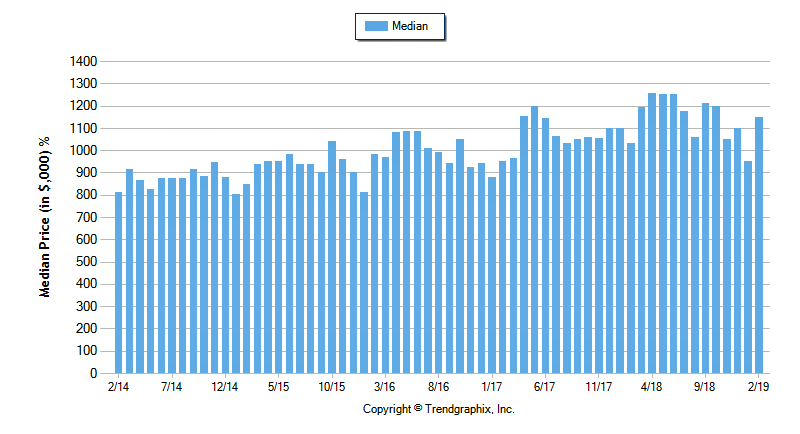 Mortgage Rates Rising Slowly
Mortgage rates effect the ability of buyers, particularly first-time buyers, to purchase homes. See our blog on interest rates and affordability.
Overview
Mortgage rates are expected to rise slowly in 2019 and should not be an inhibiting factor for most buyers.
The Numbers: Mortgage Interest Rates
According to Freddie Mac, 30 year mortgage rates dropped to a low of 3.35% in February and then increased to 4.41% in early March 2019. Freddie Mac has lowered its prediction for rates at the end of 2019, from 5.3% to 4.6%.
Takeaway
Housing prices will continue to increase over the next year and buyers will be active, particularly in the lower- to moderately-priced market, under $2.5-3M. There may be a shift toward a balanced or buyer's market, but indicators are not yet convincing. Inventory may increase as sellers cash out while they have a perceived advantage in the market. With better weather, we expect more listings and sales.