First-time visitors and old-timers often say that Marin is paradise. The county has special qualities that contribute to an enviable lifestyle: natural beauty; mild weather; small, family-friendly towns; easy access to San Francisco; and abundant outdoor and cultural activities. "Marin is gorgeous, great weather, clean, great shopping, access to healthy foods, wonderful bike paths and access to Mt Tam, Stinson Beach, Phoenix Lake, etc. The schools are all good really and it is very safe." (from the Berkeley Parents Network)
On this page, Madeline shares some of the reasons why we love living in Marin.
Natural Beauty
Everywhere in Marin you're surrounded by natural beauty. The county is dominated by Mount Tamalpais with streams and valleys falling through verdant and protected forests of Redwood and Madrone trees. Marin is surrounded on three sides by water: the Pacific Ocean, San Pablo Bay, and San Francisco Bay, with dramatic coastlines and vistas.
Mild Weather
Marin is known for its warm days and cool nights. From May through October, average daytime temperatures are in the 70's with little or no precipitation. From November through April, daytime temperatures average about 60 degrees during the day with occasional rain. Nighttime temperatures average from the mid 30's to the mid 50's year-round, infrequently freezing, with no more than frost on roofs.
During the winter months, rains are intermittent, with a day or two of storms followed by days of flawless, blue skies. Marin averages 270 sunny days per year. Rain falls an average of 44 days per year, averaging 37 inches/year. Snow is rare, with a light covering the top of Mount Tamalpais.
In the summer months, high inland temperatures pull the fog off the ocean to cool San Francisco and parts of the East Bay. On these days, fog streams through openings in the coastal hills into southern Marin towns (Sausalito, Mill Valley, Tiburon, and parts of Corte Madera). The fog usually dissipates by afternoon, yielding warm, sunny skies.
Mediterranean Gardens
The mild weather is perfect for Mediterranean gardens, encouraging a wide variety of plants including palms, bougainvillea, roses, citrus, fruit trees, and succulents. A challenge for gardeners is to keep up with the vigorous growth of their plants.
Clean Air and Fresh Water
Marin has clean air. The ocean fogs that cool our nights and some days sweep away the air pollution. The Air Quality Index is on average 36-46 , but many days lower. An index of 50 or lower is considered good, 50-100 is moderate, and 100+ unhealthy.
Marin drinking water comes from eight lakes and reservoirs maintained by the Marin Municipal Water District (MMWD). This water (75%) is supplemented with water from the Russian River in Sonoma County (25%). The taste are quality are excellent. Water is tested for 94 contaminants and is below Public Health Goals for each of these.
Marin has soft water, meaning a low content of dissolved minerals. According to MMWD, "the water that comes from MMWD's reservoirs ranges in hardness from 3-5 gpg, while the water that is imported from the Russian River ranges in hardness from 5-7 gpg." Water with less than 4 gpg hardness is soft, water with 4-7 gpg is moderate hardness."
Small Family-Friendly Towns
Marin has 13 small towns and 14 villages. The towns, which average 16,000 people, are mostly arrayed across the hills and valleys on the east side of Mount Tamalpais, facing the bay. The villages of West Marin are adjacent to parks and farmland and along the Pacific coast.
Marin Towns
Marin Towns
| | |
| --- | --- |
| Belvedere | A magical island at the tip of the Tiburon peninsula with great views of San Francisco, Richardson Bay and Sausalito. |
| Corte Madera | Convenient central Marin town with hills and bayfront. |
| Fairfax | The last town to the west with beautiful hills; a gateway to west Marin. |
| Greenbrae | A hill town in the middle of Marin with frontage on Corte Madera Creek and San Francisco Bay. |
| Kentfield | An elegant, older community with wide, wooded lanes. |
| Larkspur | Ideal weather with Redwood canyons and a charming downtown. |
| Mill Valley | Always charming, set in four canyons that climb Mount Tamalpais, with elegant Redwood trees. |
| Novato | The northernmost town in Marin; with sprawling neighborhoods from bay to hills. |
| Ross | Older, east-coast-type estates set in hills with broad streets. |
| San Anselmo | A relaxed, family town with older homes, creeks, and an established downtown. |
| San Rafael | One of the largest cities with a great variety of beautiful neighborhoods. |
| Sausalito | Spectacular views of San Francisco and the Bay with a lively downtown and waterfront including boat harbors and houseboats. |
| Tiburon | A special peninsula in the Bay, with hills and memorable views, a charming downtown, and boat harbors. |
Most of the towns originated in the late 19th century as vacation destinations or trade depots. San Francisco residents built summer homes on the warm, wooded slopes of Marin to escape the fog. For those who could not afford summer homes, ferries brought them to tent camps, cabins, houseboats, and outdoor dance halls throughout the county. The original towns have grown together, but they each retain a distinctive small-town atmosphere. Even the two larger cities, San Rafael, and Novato, are divided by hills and valleys into unique neighborhoods.
Unincorporated Marin
About half of Marin County (457 out of 828 square miles) is unincorporated, meaning that it is not administered by the 13 incorporated towns and cities. This map, which focuses on zoning of unincorporated areas, shows the extent of this area. The practical consequences are that services, like planning, building codes, and police and fire protection are administered by the county.
All of west and north Marin, including the 14 villages, is unincorporated. Most of the incorporated cities, including Mill Valley, Tiburon, San Rafael, San Anselmo, and Novato, have unincorporated neighborhoods.
Public and Foundation Support
Residents routinely approve bond measures to support and improve public grade schools, the College of Marin, police, safety services, parks, bayside restoration, and much more.
Foundations benefiting school districts and individual schools are coordinated by SchoolsRule Marin. In 2021, private and public donors contributed about $700,000 to 20 public schools in Marin. The Marin Community Foundation and Buck Family Fund fund programs for under-served residents, enhance the environment, education, and community health, support economic opportunity, and promote the arts.
The Marin Agricultural Land Trust protects farmlands from non-agricultural uses, with more than 55,000 acres preserved. This is about half the agricultural land in the county.
Excellent Schools
Education is a priority for our residents. Each year, many young families move to Marin because of the high-quality public and private schools. Read more on our school pages.
Resources for Families and Children
Here are few special resources that enhance the family experience in Marin and nearby:
Elder Care
The Marin population is aging. By 2030, one in three Marin residents will be 60 or older. The county has many public and private programs to support older residents. These services provide transportation, food, personal care, counseling, companionship, and more.
Age-Friendly Marin is dedicated to creating physical and social environments that support and enhance healthy and active aging, and an optimal quality of life for our older residents. Centers feature programs in art, games, yoga, literature, technology, and more.
Safety: Police
Nine Marin towns have dedicated police departments. Corte Madera, Larkspur, and San Anselmo have consolidated their police into the Central Marin Police Authority. Unincorporated areas, including Kentfield, Greenbrae, and the villages of West Marin, are served by the Marin County Sheriff and the California Highway Patrol.
Safety: Fire and Emergency Medical Services
Thirteen districts serve all Marin towns and unincorporated areas with fire protection and emergency medical services. Six paramedic services respond in designated areas of Marin.
With the increasing occurrence of wildfires in Northern California, every local government is planning and implementing ways to decrease future fire risk. The Marin Wildfire Prevention Authority and FireSafeMarin report on fire prevention issues and provide solutions for individual homeowners and towns. The Marin Municipal Water District, which oversees 22,000 acres, is increasing its investment fire prevention through vegetation management, committing $400,000 a year. Over a two-year period, $3.5 million will go toward reducing the fuel load.
Safety: Disaster Preparedness
Many neighborhoods have Community Emergency Response Teams (CERTs), preparing residents to successfully survive natural disasters. Learn more about this program at the ReadyMarin website.
Health Care
Marin has excellent health care resources centered on the MarinHealth Medical Center in Greenbrae. This publicly-owned hospital, established in 1952, has a new $535M hospital, financed by a voter-approved, $394 million general obligation bonds and private donations. The expanded and updated hospital was completed in 2020.
There are several other medical resources in Marin, including:
Easy Access to San Francisco
Marin County shares the Golden Gate Bridge with San Francisco, providing one of the easiest commutes of any bay area suburb.
There are several choices for the commute from Marin to San Francisco:
Highway 101 connects Marin to San Francisco via the Golden Gate Bridge. Distance to the bridge is 4 or less miles from Sausalito and 24 miles from Novato, Marin's northernmost town.
Commuters can ferry from Larkspur, Tiburon, or Sausalito to the Ferry Building in downtown San Francisco.
The SMART train provides connections between Sonoma County and the Larkspur Ferry.
Golden Gate Transit has seven bus routes that connect many points in Marin to San Francisco.
Marin Transit provides bus service within Marin, connecting to San Francisco service.
Many large Bay Area companies provide private bus service for their Marin County employees.
Nearby World-Class Wine Country
The world-renown wine county of Northern California begins less than half an hour's drive from central Marin. These areas provide outstanding wines, beautiful and charming wineries, and relaxing vacation destinations.
Sonoma Valley
The Sonoma Plaza is about half an hour drive from Marin. This is a destination for relaxed dining and shopping, wine tasting, and a starting point to visit over 400 wineries and 17 American Viticultural Areas. The rugged and dramatic Sonoma coast, stretching 55 miles along the Pacific Ocean, is easily accessible for vacations and day trips.
Napa Valley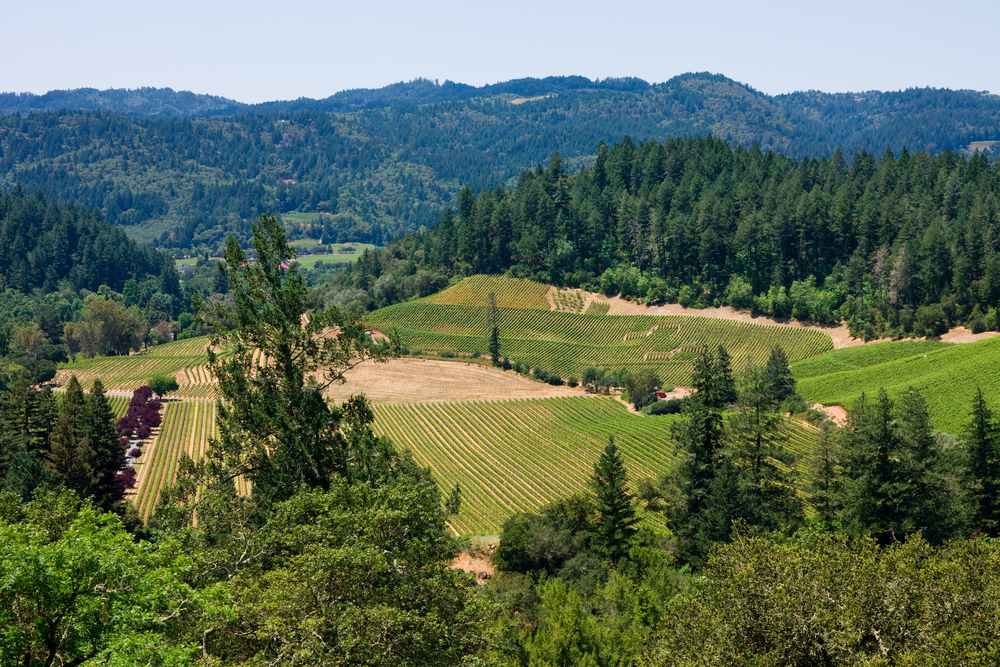 A one-hour drive to the Napa Valley takes you to an inland valley and mountains of exceptional beauty, over 400 wineries, and vacation destinations including the thermal hot springs of Calistoga. Springtime comes early to the valley, often beginning in December, providing a year-round destination.
Anderson Valley
The Anderson Valley in Mendocino County, about a two-hour drive from Marin, is one of Madeline's favorite destinations, overnighting at the Apple Farm and a special dinner at the Bonneville Hotel. Part of the unique beauty of this valley is the tree-studded mountain ridge on one side and the redwood-forested ridge on the opposing side. This small valley is home to about three dozen fine wineries, the small town of Boonville, good food, the unique Philo Apple Farm, redwood parks, and relaxation. This is probably what Napa County was like before it became a world-famous destination. The residents in the Anderson Valley appreciate living there and treat visitors as special guests.
Nearby East Bay Cities
The sprawling east bay cities are a 15-minute drive from central Marin over the Richmond-San Rafael Bridge. Two cities that are easy to visit for a change-of-pace are Point Richmond and Berkeley.
Point Richmond is the first town over the bridge and a destination for dining, shopping, or walking by the bay. The downtown retains much of the charm of its 1900 origins, and the west side of town has magnificent views of the Bay, San Francisco, and Marin. The town retains one of the few indoor public swimming pools.
Berkeley is the home of the University of California, known for outstanding education and political activity. The city, along with neighboring Albany and Oakland, provides a fascinating and complex environment. Ethnic and cultural diversity is much greater than Marin.
There is much to do and see in Berkeley. Here are a few:
Nature at Your Doorstep
About half of Marin County has been preserved as open space, providing convenient outdoor activities for everyone. Here are the highlights.
Angel Island State Park
A short ferry ride from Tiburon takes you to Angel Island State Park with beautiful views of Marin County, San Francisco, and the north bay. Ferry service is available every day from about 9 am to 5 pm. You can also sail a private boat to Ayala Cove on the island.
Recreational activities include hiking, picnics, and camping. There is a café, picnic facilities, and bike rentals near the ferry landing. You can walk or bicycle around the island or take a tram tour. A historic site that is worth visiting is the detention center for Asian immigrants who arrived there from 1910 to 1940. The park service presents a sensitive and moving recreation of the lives of these immigrants. There are three campgrounds with a total of 10 sites, which you must reserve in advance.
China Camp State Park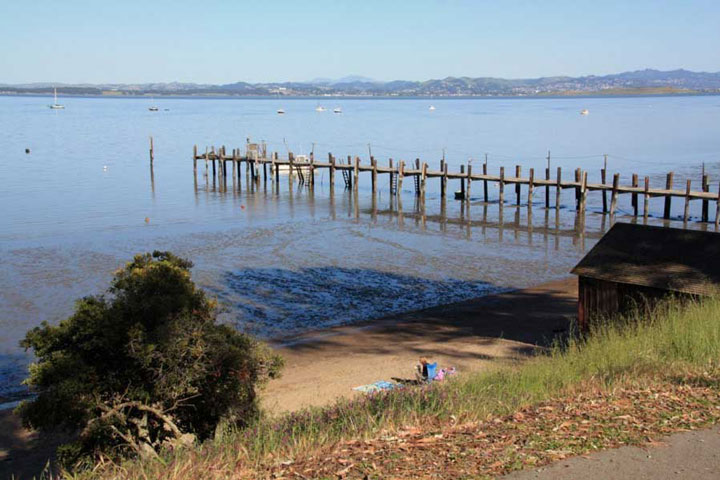 The serene, 75-acre China Camp State Park, at the east end of San Rafael, stretches along the San Pablo Bay, providing hiking, biking, camping, fishing, and picnicking among the oak woodlands, grassy hills, and marshlands. The area was named for the Chinese residents who ran shrimp fishing businesses in the late 19th century. Click for a map of the park.
Golden Gate National Recreation Area
The Golden Gate National Recreation Area includes most of the land from the Golden Gate Bridge to Mill Valley and then many acres going north through Point Reyes and Tomales Bay. Several visits are needed to experience Point Bonita Lighthouse, Nike Missile Site, Cavallo Point-The Lodge at Golden Gate, Institute at the Golden Gate, the Marine Mammal Center, Bay Area Discovery Museum, Fort Baker, Tennessee Valley, Fort Cronkhite, and Alcatraz Island.
Marin Municipal Water District Watershed
Marin water district
owns and protects a large part of Mount Tamalpais as a source of drinking water. The watershed contains forests and five lakes on Mount Tamalpais: Alpine Lake, Bon Tempe Lake, Kent Lake, Lake Lagunitas, and Phoenix Lake. In addition, the district has three lakes in the foothills to the north of Mount Tamalpais: Nicasio Reservoir, Soulajoule Reservoir, and Stafford Lake. There are many trails for casual walks, picnicking, ambitious hikes, fishing, and horseback riding.
Mount Tamalpais State Park
Mount Tamalpais
is the centerpiece of Marin, raising to about 2,600 feet and cascading down to the ocean and bay through oak and redwood forests, streams and valleys. The state park and adjacent water district lands and national seashore provide over 60 miles of hiking, biking, and horseback riding trails.
Check out the lyrical video Mt. Tamalpais Sunrise to Moonset by Gary Yost. Gary is an advocate of restoring the west peak of the mountain, now the site of an abandoned military installation.
Point Reyes National Seashore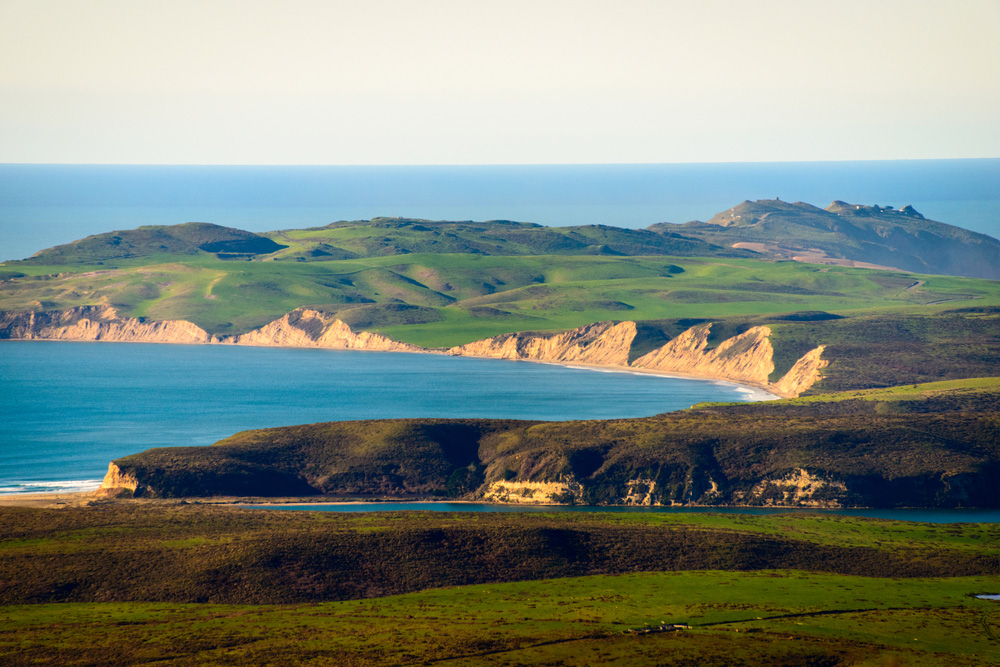 The Point Reyes National Seashore covers 71,000 acres of dramatic coastline on the west edge of Marin. You will be astonished that this wild and peaceful park is so close by.
Samuel P. Taylor State Park
Samuel P. Taylor State Park is in West Marin, about 15 miles west of San Rafael and a few miles before Point Reyes National Seashore. Park trails guide you through groves of redwoods along Lagunitas Creek and open grasslands. 51 campsites are available by reservation.
Muir Woods National Monument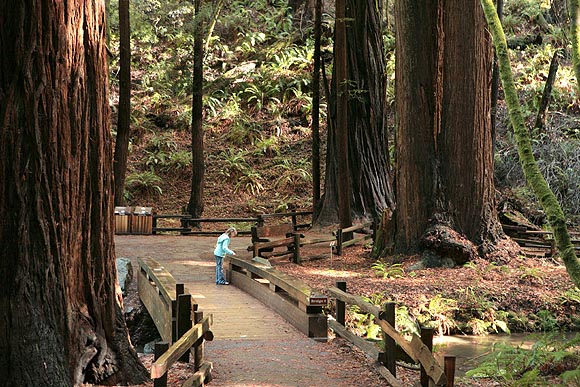 Muir Woods is one of the most popular attractions for visitors to San Francisco and Marin. The 550-acre park shows to perfection an old growth redwood forest. Despite its popularity, the Park Service has done an excellent job making the park accessible and inspiring. You must make reservations before entering the park.
Open Space Preserves
Marin County manages 34 Open Space Preserves primarily for natural resource preservation. Except for trails used by pedestrians, mountain bikers, and equestrians, the preserves do not contain recreational facilities of the types found in parks. The preserves include an extensive network of approximately 249 miles of roads and trails, 335 entry points to nearly 16,000 acres of land.
Town and County Parks
Marin County maintains 39 public parks in addition to its 34 open space preserves.
Recreation
Wherever you live in Marin, outdoor recreation is nearby, and the mild weather makes these activities available year-round.
Hiking
Marin provides almost unlimited possibilities for hikers, from ocean to mountains top to bay. There are many guidebooks to hikes in Marin plus a regular feature on recommended hikes in the Marin Independent Journal. Here a two websites with recommended hikes: AllTrails.com and OneTam.org.
Biking
Modern mountain biking began on Mount Tamalpais in the late 1970's. There are many fire roads, wide trails, and paved bike paths for every level of rider. There are organizations, like the Marin County Bicycle Coalition, that promote safe and enjoyable cycling.
Golf
There are eight golf courses in Marin:
Sailing
Sausalito, Tiburon, and San Rafael have extensive marinas and yacht clubs on the bay, with smaller facilities in Corte Madera, Dillon Beach, and Bolinas.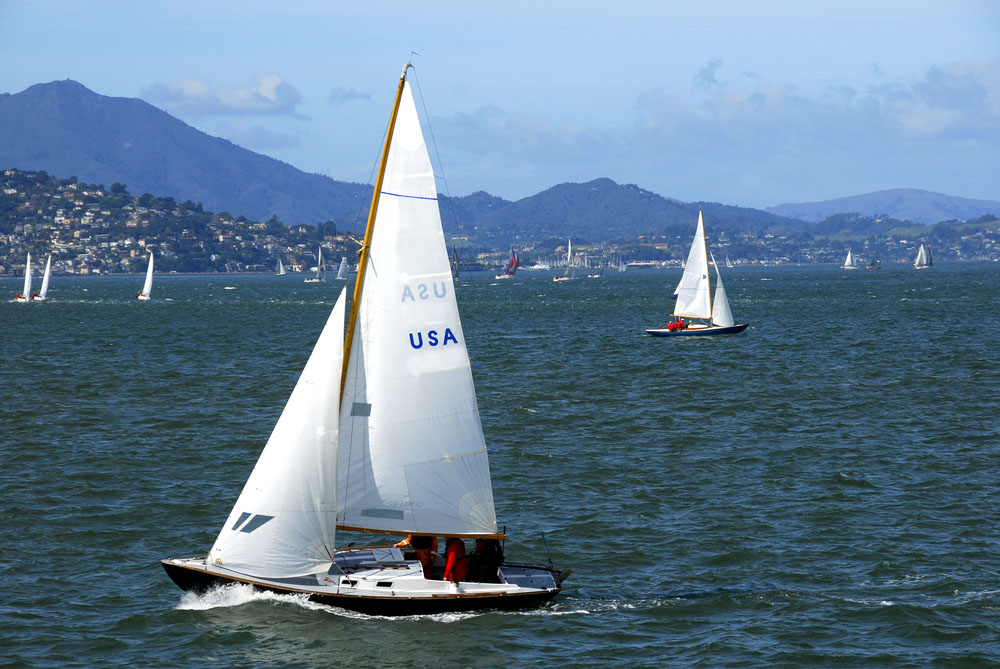 Water Sports
The Marin coast is rocky, with occasional sandy beaches. Water temperatures are typically in the mid-50's Fahrenheit. Yet they provide many opportunities and challenges for water sports.
Board Surfing
Favorite surfing locations are in and Bolinas and Dillon Beach in the north and Rodeo Beach (at Fort Cronkhite) in the south. The best months for surfing are September through November.
Windsurfing and Kitesurfing
Marin has many windsurfing and kitesurfing locations on the bay and ocean. Here is a good description.
Stand-Up Paddle Boarding and Kayaking
There are abundant locations for stand-up paddle boarding. Here is a list of preferred sites:
Angel Island (Tiburon)
Corte Madera Creek (Larkspur-Corte Madera)
China Camp State Park (Sn Rafael)
McInnes Park (San Rafael)
McNears Beach Park
Richardson Bay (Mill Valley and Tiburon)
Tomales Bay (West Marin)
Beaches
You can find dramatic ocean beaches, from Dillon Beach in the north, continuing through Point Reyes National Seashore, to Kirby Cove and Rodeo Beach at the south end of Sausalito. Serene bayside beaches lie along San Francisco and San Pablo Bays in Tiburon and San Rafael. In West Marin, you will find beaches on Tomales Bay. For sunshine and rest when other beaches were cold and windy, Madeline the sheltered Heart's Desire Beach on Tamales Bay .
Here is a list and description of Marin beaches. County beaches missing from this list are Chicken Ranch and Agate Beach on Tamales Bay, just north-west of Inverness, Upton Beach, on the ocean north of Stinson Beach, and Whitehouse Pool in Lagunitas
Fishing
You can fish at most of the lakes and reservoirs in Marin. The California Department of Fish and Wildlife lists fishing lakes, streams, sites on the bay, and lakes in Marin and Sonoma Counties. Fishing licenses are required for many of these locations.
Snow Skiing
Excellent skiing is available in the Lake Tahoe area of the Sierra Nevada Mountains. You can travel from Marin to a ski resort in 3 to 3.5 hours.
Easy Access to Art and Music
Marinites have easy access to excellent art, music, and theater. Here are major attractions.
Museums
Asian Art Museum in the San Francisco Civic Center (including City Hall, Symphony Hall, Opera House, and more) has one of the most comprehensive collections of Asian Art in the world.
California Academy of Sciences in San Francisco's Golden Gate Park is a combined natural history museum, aquarium, planetarium, and four-story rain forest in a spectacular 10-year-old building.
Contemporary Jewish Museum, a few blocks from San Francisco's Union Square, is a "a non-collecting institution that partners with national and international cultural institutions to present exhibitions… [that make] the diversity of the Jewish experience relevant for a twenty-first century audience." An innovative mix of art exhibits and cultural programs.
De Young Museum in San Francisco's Golden Gate Park present American art from the 17th through the 20th centuries, textile arts, and art of Africa, Oceania, and the Americas. They also host important traveling exhibits and locally curated exhibits. The building is a modern masterpiece, built in 2005.
Legion of Honor Museum in San Francisco has diverse collections of European decorative arts and paintings, ancient art, and one of the largest collections of prints and drawings. The imposing Beaux-arts building is set on a knoll in Lincoln Park with breathtaking views the Pacific Ocean, Golden Gate Bridge, Marin County, and San Francisco. Not to be missed!
Mexican Museum in Fort Mason Center on San Francisco's northern waterfront, houses a permanent collection from thousands of years of Mexican, Chicano, and Latino art and culture.
Museum of Modern Art is downtown in San Francisco, at Third and Howard Streets. The fine modern building typically presents six temporary exhibits and five ongoing exhibits, plus film events.
UC Berkeley Art Museum and Pacific Film Archive presents each year more than 20 art exhibitions, 450 film programs, dozens of performances, lectures, symposia, and tours.
Music and Theater in Marin
Live Music at these clubs
They are ALL worth a visit!
Music and Theater Around the Bay
Here the major locations for the performance arts in San Francisco and the East Bay; and there are more.
San Francisco Symphony, a world-class symphony in the San Francisco Civic Center.
San Francisco Opera presents a full season (typically eight operas) at the Opera House in the San Francisco Civic Center.
San Francisco Ballet, a world-class ballet company, presents about eight programs each season.
SF Jazz, an outstanding small theater in San Francisco, dedicated to jazz.
Magic Theater in Fort Mason Center, San Francisco, present new and provocative theater.
Palace of Fine Arts Theater in the San Francisco Marina presents diverse program of music, dance, and comedy.
Green Music Center at Sonoma University in Santa Rosa presents outstanding music and performances by visiting performers, in one of the best new theaters in the Bay Area.
Cal Performances at UC Berkeley presents top-notch music, theater, and dance programs.
Berkeley Rep is an innovative and nationally recognized theater and school in downtown Berkeley.
Freight and Salvage, in Berkeley since the late 60′, has been a venue for traditional American music, now focusing on traditional music from outside the continental US.
Yoshi's at Jack London Square in Oakland has been well known for jazz performers, now presents a broader range of innovative music.
Fox Theater, a restored 1928 theater on Telegraph Ave in Oakland, is a favorite among touring musicians and singers.
Stanford Live presents medieval to contemporary music in Palo Alto.
Broadway road companies and touring artists perform regularly at these downtown San Francisco theaters: Curran, Golden Gate, Orpheum, and Warfield.
Outstanding Fresh Food
California has long provided the country with fresh fruits and vegetables. These are all available in Marin, along with other items grown organically in the Bay Area and Northern California. Here are noteworthy resources:
Marin Farmers Market at the Civic Center in San Rafael on Thursday and Sunday. This is the largest market and is a gathering place for families and chefs.
Town farmers markets: Corte Madera, Larkspur, Tiburon, San Rafael (downtown), Fairfax, Mill Valley, Novato, and Point Reyes Station.
Ferry Plaza Farmer's Market, at the Ferry Building every Tuesday, Thursday, and Saturday morning. In addition to great produce, you can shop at the unique food vendors with shops within the Ferry Building.


Marin Farms

About a third of the land in Marin is dedicated to agriculture. To preserve the agricultural complexion of Marin, over half of this farmland is now in an agricultural trust. The Marin Agricultural Land Trust assures the future of 85 farms and ranches and protects these lands from non-agricultural use. Here is a list of Marin farms and what they produce:

Allstar Organics produces herbal salts and sugars and distills sprays from herbs and flowers. They also grow heirloom tomatoes, pumpkins, and squash in Woodacre.
Blackberry Farm in Bolinas grows 24 varieties of heritage apples.
Chileno Valley Ranch raises grass-fed beef and apples near Petaluma.
Clark Summit Farm north of Tamales produces poultry, eggs, grass-fed beef and pork.
Draper Farms in San Anselmo grows organic vegetables and fruit.
Green Gulch Farm at the Zen Center in Muir Beach sells its produce at the San Francisco Ferry Plaza Farmers Market and to neighbors in Muir Beach. On Friday morning it delivers outstanding fresh bread for sale at the Mill Valley Farmer's Market and Driver's Market in Sausalito.
Hog Island Oyster Company grows oysters in Tamales Bay for sale at the Marshall location and the San Francisco Ferry Plaza Farmer's Market.
Little Organic Farm, near Petaluma, dry farms organic potatoes, tomatoes, and other vegetables. They are available at the Thursday Marin Civic Center Farmer's Market.
Lunny Ranch in Inverness produces grass-fed organic beef and artichokes.
Marin Roots Farm near Petaluma grows a wide variety of organic vegetables.
Marin Sun Farms produces grass-fed and pasture raised meat (beef, lamb, pork, poultry, goat, rabbit) and eggs.
McEvoy Ranch near Petaluma grows organic olives for exceptional certified extra virgin olive oil and cured olives. They also produce vinegar and wine.
Mt. Barnabe Farm in Lagunitas grows blackberries, raspberries, and garlic.
Red Hill Farms near Petaluma supplies milk-fed lamb and free-range, pasture raised organic chicken eggs.
Sartori Farms in Tamales raises organic strawberries.
Stemple Creek Ranch produces grass fed beef and lamb.
Star Route Farms in Bolinas produces organic vegetables, with an emphasis on leafy greens and herbs.
Tomales Bay Oyster Company in Marshall has been operating since 1909.
Dairies and Cheese
Marin dairy farms have evolved into cheese production. There are others not listed here that are nearby in Sonoma County.
Wines
There are 17 wineries in Marin, many producing high quality organic wines.
History
Marin County is one of the original 27 counties of California, created on February 18, 1850, just before the state was admitted to the Union. The original inhabitants of Marin were a Huimen people, a Coast Miwok tribe. The Spanish arrived in about 1600, but the first village was established in 1817 at the Mission San Rafael. By the mid-19th century, most of the Miwok inhabitants had died from imported diseases and poor living conditions.
In the 1800's Marin remained rural and sparsely populated with dairy farms and logging operations that clear cut the original forests and left bare hills. Early in the 20th century, Marin was a vacation destination for San Francisco families seeking relief from the fog and cold summer weather. Tourists came from great distances to enjoy the natural beauty and views from Mount Tamalpais. Marin provided summer cabins, house boats, dance halls, hotels, and sunny days. Local railroads carried visitors to every town on the east side of Mount Tamalpais and even to the top of the mountain. Visitors to West Marin traveled by stagecoach and boat.
Population Growth in Marin
The population of Marin increased slowly but steadily from 3,334 in 1860 to 27,342 in 1920. The rate of growth increased slightly from 1920 to 1940, with a major expansion from 1940 to 1970:
1920 to 1940: 200%
1940 to 1970: 390%
1970 to 2000: 20%
2000 to 2010 leveled off at only 2%
Big Changes: New Bridges and the War Industry
Before the Golden Gate Bridge was completed in 1937, access from San Francisco was limited to ferry boats. Travel from the east bay was also limited until the Richmond-San Rafael bridge was completed in 1956. After 1937, the population began to increase.
During WWII, the building of Liberty transport ships transformed Sausalito and southern Marin with an influx of workers. After WWII, the greatest population increase took place.
Limited Housing Potential in Marin
The potential for new housing in Marin is limited. "Marin County has 58 percent of its 333,000 acres protected from development," the Marin Independent Journal reported on Jan 1, 2017. In addition, about 100,000 acres are zoned as agricultural and 52,000 of these acres are in protected agricultural easements.
"The county has 11,600 total acres that could be developed. Of that, 2,400 acres are likely to be built on in the next 10 years, according to a report, At Risk: The Bay Area Greenbelt, by the Greenbelt Alliance. This leaves about 3% of Marin land for possible development.
Limited housing growth, along with the abundance of open space, maintains high prices for Marin homes.
Demographics
Marin county is home to about 260,000 people, most living on the eastern slopes and valleys of Mount Tamalpais, facing the bay. Residents are well-educated, high income (median household income $114,000), older (median age about 10 years higher than California or US ), and identified as white (70%), Hispanic (16%), and Asian (6%).
Unemployment is about 2% compared to 4% nationally.
The low ethnic diversity in Marin compared to other town in the Bay Area is due to the high cost of housing. This is a problem shared by many other urban areas but is influenced in Marin by the high percentage of preserved open space and limited supply of affordable housing. Here is a recent discussion of this issue by KQED radio news.
Map of Marin
Marin begins at the Golden Gate Bridge and extends north to Bodega Bay on the coast and Valley Ford in Sonoma County.
Why Marin?
We are Living in Marin for a reason, and we love to share our knowledge. Please contact Madeline for a personalized introduction.