San Rafael
---
A City of Great Diversity
San Rafael, the largest city in Marin County, boasts the northernmost of the California Missions, Saint Raphael the Archangel, founded by the Franciscan fathers in 1817. Fourth Street, the main thoroughfare in downtown, has many casual restaurants and the restored Rafael Theater, which co-hosts the Mill Valley Film Festival.
San Rafael has historically been the location of elegant, turn-of-the-century estates, bungalow neighborhoods, and the commercial hub of Marin County. When you get to know San Rafael, you'll find many beautiful and diverse neighborhoods. Homes are located in on a variety of level lots, hills, and waterfront sites. San Rafael residents number some 60,000 living in 23,800 households. Mean commute time is 27 minutes and the drive to San Francisco averages 38-46 minutes.
The San Rafael City Schools district is comprised of six elementary schools, one middle school, one K-8 school and three high schools.
San Rafael Residential Neighborhoods
San Rafael has 33 residential neighborhoods divided into three districts. We describe below some of our favorites, starting at the south end of town. Whether you want a condo or an estate with views to the water, San Rafael provides amazing diversity.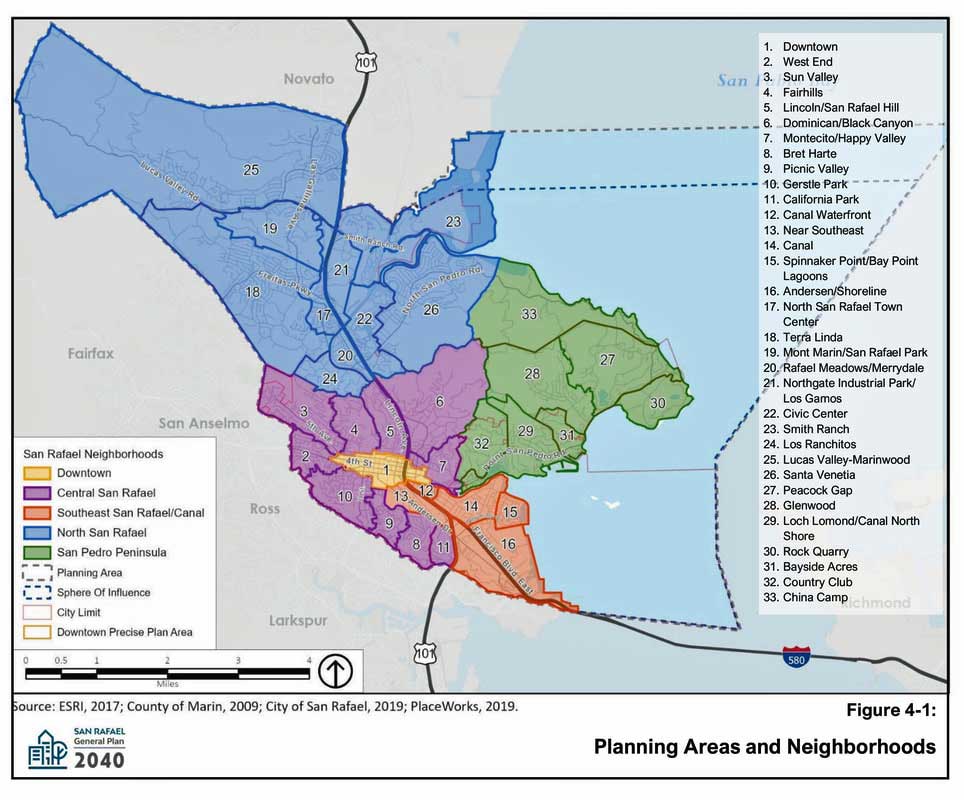 Central San Rafael
Tucked away in south central San Rafael are unexpected neighborhoods that are rural and private.
A favorite is the Bret Harte/Southern Heights area (8) on the hill that separates San Rafael from Greenbrae. Heavily wooded streets without sidewalks have a variety of homes with wonderful views of San Rafael and the bay.
Just down the hill from Bret Harte is Gerstle Park (10) with many Victorian homes and early 20th century cottages on shady, mostly level streets. This neighborhood provides a walk to downtown.
The Fairhills/Forbes area (4) has turn-of-the century and early 20th century homes on quiet, level streets. This neighborhood includes large hillside homes with views
Sun Valley (3) is a quiet, level neighborhood with many smaller cottages.
On the east side of Hwy 101 is the Dominican/Black Canyon area (6), adjacent to the lovely Dominican University campus, with Victorian mansions on quiet, wooded streets.
San Pedro Peninsula
Further to the east, Point San Pedro Road takes you to these neighborhoods:
Country Club area (32) with large, elegant homes in the hills.
Lock Lomond neighborhood (29) along the bay.
Bayfront homes at Bayside Acres (31).
Glenwood neighborhood (28) built in a broad, south-facing valley.
Peacock Gap area (27) with roomy ranch-style homes on large lots, many with bay views, condos, and a golf course.
The light along Point San Pedro Road is Mediterranean, reflecting off the nearby bay. At the east end of Point San Pedro Road, you'll reach McNear's Beach Park looking east across the bay and China Camp State Park, an expansive and peaceful park that was once the site of a Chinese settlement and a shrimp fishing village.
North San Rafael
The famous Marin County Civic Center, designed by architect Frank Lloyd Wright, spans three small hills in northeast San Rafael. Completed in 1961, this building is considered Wright's last masterpiece. The citizens of Marin County provided overwhelming support to build this adventurous project in the face of disruptive political forces that would have blocked construction, and are still proud of this building. Check out the tour options for this wonderful building. It is worth a visit.
Lucas Valley Road at the north end of San Rafael is yet another unique setting in Marin. On its long course westward, Lucas Valley Road travels through wooded canyons and grassy hills that are typical of rural, coastal Northern California. Once extensive ranch land, there are now scattered homes, ranches, and the Skywalker Ranch of filmmaker George Lucas. The Upper Valley neighborhood has mostly Eichler homes set against beautiful, oak-covered hills. This is classic California hill country.
The Terra Linda and Marinwood neighborhoods in northwest San Rafael are comprised of ranch-style homes and condos set along friendly streets. Many classic Eichler homes found here are again fashionable because of their open floor plans and emphasis on outdoor living.
Property Values
See our market report for the price of homes sold in San Rafael over the last month and last two years.
New Real Estate Listings
Most Expensive Homes
Least Expensive Homes
---
Places to Visit