Corte Madera
---
Charming Town in the Heart of Marin County
Ideal for families, commuters, and lovers of the outdoors, Corte Madera is centrally located in Marin County, stretching from bayside to the hills of Mt. Tamalpais. Corte Madera in Spanish means "cut wood" and, like other towns in Marin County, Corte Madera supplied lumber to build San Francisco. The town has about 10,000 (2022) residents living in 3,930 households. Real estate has been booming over the last few years as people discover the unique location and the excellent schools. Like all towns in Marin, Corte Madera has many local restaurants and shops and is also the home of two destination shopping malls. Homes in town, along with those in Larkspur and Greenbrae, are much sought after because of their convenient Central Marin location.
Lifestyle Tour of Corte Madera
Great for Commuting to San Francisco
With an average commute time of 33 minutes, Corte Madera is ideal for commuters to San Francisco, with several convenient options. The town is 8 miles (about a 10-minute drive) north of the Golden Gate Bridge. Coming home, the Corte Madera freeway exit is typically right before the heavy afternoon traffic going north. Corte Madera commuters are also close to the Richmond-San Rafael Bridge providing access to the East Bay and Oakland.
Driving isn't the only option. Commuters are a few minutes from the Larkspur Ferry Terminal just north of town. Other options are bus and the local train to Sonoma.
Transit Agencies and Schedules
Map of Corte Madera
Corte Madera Real Estate
Property Values
See our market report for the price of homes sold in Corte Madera over the last month and last two years.
Newest Listings
Least Expensive Homes
Most Expensive Homes
Neighborhoods
Corte Madera is divided by Highway 101 into two parts, west Corte Madera and Bayside (east) Corte Madera.
Lakeside and Chapman Park
As you enter the west side of town, you'll find ranch-style homes, many on beautiful lagoons that are fed from Mt. Tamalpais and the bay via the Corte Madera Creek. A little farther south is Chapman Park, an older neighborhood with a mixture of smaller California cottages and large, rambling hillside homes with views of the bay. Chapman Park begins in the flat lands adjacent to Tamalpais Drive, and winds up the hill to meet Camino Alto on its way to Mill Valley. The Larkspur-Corte Madera bike and walking path runs to Chapman Park. A unique section of this neighhborhood, Pleasant Valley (at the top of Sausalito Street) has lovely views of Mt. Tamalpais and the bay.
Christmas Tree Hill
Where Tamalpais Drive meets Corte Madera Avenue sits the Old Town Square (Menke Park), the site of the former train station. A few of the historic buildings surrounding the square are the 19th-century hotel and horse barn. On the west side of the square is Christmas Tree Hill with narrow winding streets and diverse and interesting homes with bay views. At the top of the hill, trails lead hikers to the open expanse of Mt. Tamalpais and to Mill Valley, Larkspur, and Kentfield.
Marin Estates/Mariner/Mira Vista
These bayside neighborhoods enjoy protected marshlands, the Ring Mountain Nature Preserve, and proximity to the Tiburon peninsula. Most homes were built from the 1950's through the 1980's. Many homebuyers appreciate the easy lifestyle in these neighborhoods and have upgraded or rebuilt their houses.
Like most of Marin, these neighborhoods have a mixture of level land and hills. The hillside developments of Mariner Highlands and Marin Estates have many curving, climbing streets with nautical names and often spectacular views of the Bay, the East Bay cities, and Mt. Tamalpais.
Meadowcreek Station and Madera del Presidio
Two bayside housing developments, Meadowcreek Station and Madera del Presidio, were built between 1988-1994. These provide about 300 properties, including single-family homes, town houses, and condos in a beautiful setting at the edge of Ring Mountain.
Community Information
Weather
Corte Madera has long, dry summers, mostly free of the fog found further south in Marin County and San Francisco. Winters are short, cooler, and partly cloudy. Rain typically occurs from mid-November through March, for about 55 days a year. The temperature varies from about 41°F to 85°F, and relative humidity year round is in the 70-80% range. Overall, the town has mostly mild, sunny days.
Topography
The hilltops in the area rise to 900 feet in the west and 500 feet on the eastside. A large portion of town is near sea level as it was reclaimed from bay-front marshlands (see the topography map). Lower lying areas are in a potential flood zone, as are similar areas in other Marin County towns. The town has taken many precautions to prevent flooding of homes and neighborhoods.
Another aerial tour of Corte Madera from mountains to bay
Schools
Corte Madera and neighboring Larkspur share an excellent school district, with two elementary schools and one middle school: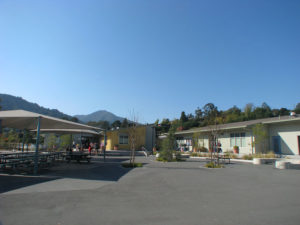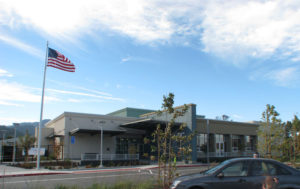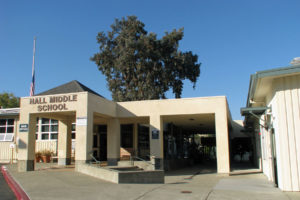 Transportation
Local Bus Transit via Marin Transit. Bus 22 connects west Corte Madera to downtown San Rafael via Larkspur and College of Marin in Kentfield. Bus 29 travels between East Corte Madera via Larkspur and Greenbrae to downtown San Rafael.
San Francisco Commuter Bus via Golden Gate Transit. Bus 132 serves the stop at the bus pad on Highwa 101 at Paradise Drive/Tamalpais Drive.
Golden Gate Ferry service travels between the nearby Larkspur Ferry Terminal and the San Francisco Ferry Terminal .
History
Corte Madera originated about 1900 and was incorporated in 1916. Initially a logging center in the last half of the 19th century, the economy turned to real estate development and dairy cows.
The current site of Menke Park was the site of the main train station. The town began building around the station, with a grocery, horse barn, and hotel. Stops on the railroad provided access to parcels of land sold for summer cabins.
The Corte Madera Memories website provides a thorough and entertaining history of the town.
Shopping Malls
Corte Madera is host to two of Marin's best shopping centers, both with many outdoor seating areas, lovely gardens and cafes and restaurants. Old Town Corte Madera also boasts speciality shops, fitness facilities and cafes and restaurants.
The Village at Corte Madera, on the east of the freeway, provides the Gap, Macy's, and Nordstrom's department stores, the Apple Store, Williams-Sonoma, plus a variety of boutiques and restaurants. This is a major shopping destination for all of Marin County. Check their web site for a complete list of stores.
The Town Center, on the west side of the freeway, boasts a wonderful mix of businesses, including REI, the Container Store, Crate & Barrel, Ethan Allen, Louis Thomas Fine Men's Apparel, and many restaurants. The local farmers' market is held here on Wednesdays.
Walks & Hikes
Walks, hikes, and mountain cycling experiences are close by in the foothills of Mt. Tamalpais, Ring Mountain Nature Preserve, and bayside marshes.
Christmas Tree Hill
The Menke Park area has stairs wandering up the hill above Corte Madera. These were built by land developers in the early 20th century to lure buyers from the train station to small lots on the hillside. These lots were sold primarily for summer cottages. Stairs climb steadily up the hill to a fire road with fine views of the county and bay, then down again. You can download a map (Christmas Tree Stair Walk). You can see photos at our blog. Note that parts of the walk are steep.
The trails near the top of Christmas Tree Hill connect you to the extensive trail system on Mount Tamalpais where you can roam from Mill Valley, to the ocean, to Fairfax.
Ring Mountain
The Ring Mountain Nature Preserve and the adjacent Tiburon Open Space begins are great places to take in the local scenery. Walkers and runners never tire of the magnificent views of the north bay, the Tiburon Peninsula, and San Francisco. This low mountain ridge is easily accessible and provides relatively level trails. See our blog on favorite walks for photos and more information, including hiking trails.