Prices for single family homes in Marin are the highest in 15 years. Will prices continue to go up? Can we expect home values to level out or decrease? First let's see where we are.
Home prices continue to increase in Marin
The median price of a single family home in Marin County continues to move upward and is now about $1,333,000 (last half of 2018). The most sought-after homes often sell quickly, at 10% or more over asking price. Many of these buyers are cash purchasers.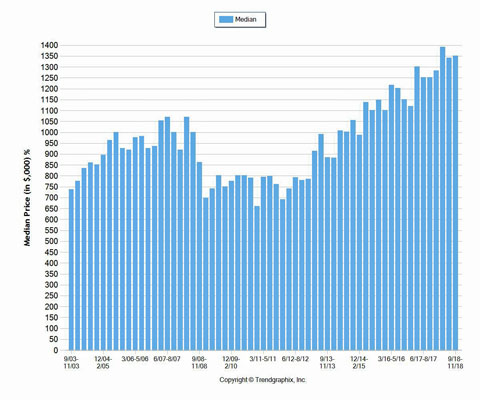 Median price for single family homes 2003-2018
Notice that prices started to increase about five years ago, late in 2012. The previous price peak occurred from 2004 to 2008, followed by a sharp drop in 2009 due to the national crisis in the mortgage bond market.
The number of houses for sale continues to decrease
The number of houses for sale is exceptionally low.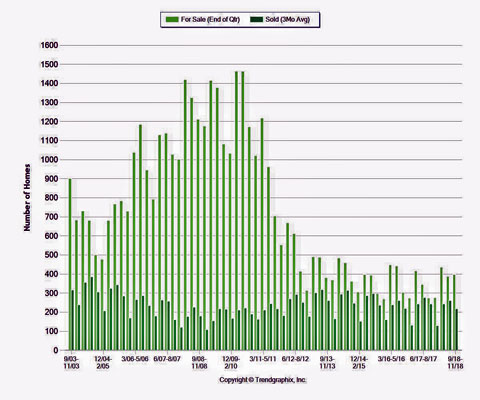 Number of houses for sale and sold 2003-2018
More houses are selling. The number of houses sold compared to the number for sale has increased greatly since 2012.
Is there a real estate bubble in Marin?
A bubble means that home prices are higher than the economy can support. Economists have various opinions on when and how the increase in prices will end, leaving us with some uncertainty. Historically, surges in home prices last for five to seven years. Then values decrease or level off.
No bubble now, but homes prices may level off or decrease
Right now, the high demand for homes and the low inventory are supporting more competition and high prices. Add many cash buyers. Buyers of all ages have enough accumulated wealth to buy houses in Marin with all cash. This indicates that prices have not yet exceeded the resources of buyers.
For the future, we anticipate that that the market will correct itself, either leveling or lowering home prices. This could happen within the next few years. Comparing median home prices in the first graph, you could guess that we are at the peak of the market once again.
The main cause for the fast drop in prices after the 2006-07 peak was the failure of mortgage-backed securities. The banks, backed by government policies, caused this disaster. We do not know how economics and politics will affect the housing market in the next few years. That's why a correction in Marin house values is a realistic possibility.
Marin home prices today
To find out the prices of homes in any Marin town, click on View All Properties at LivinginMarin.com.