Solving the Lack of Housing in Marin: Implementing Senate Bill 9 (SB 9)
The California Housing Opportunity and More Efficiency ("HOME") Act, also known as SB 9, paves the way to increased housing in residential Marin neighborhoods.
California needs more affordable housing, estimated to be 2-3 million new homes by 2025. The law focuses on more housing in these single-family neighborhoods. Almost 66% of all California residences are single-family housing and nearly 75% of all developable land is zoned single-family. The law also protects renters in these properties and prevents developers from unfairly profiting from the increased housing density.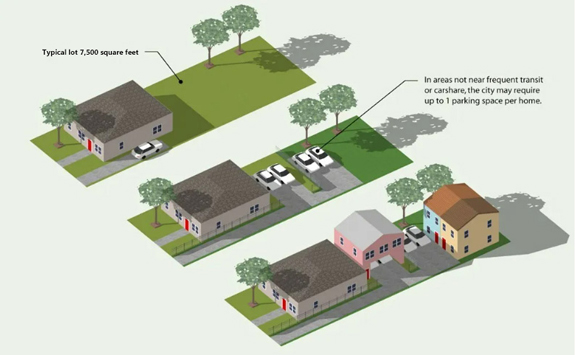 An Overview
Senate Bill 9, the California Housing Opportunity and More Efficiency (HOME) Act, streamlines the process for a homeowner to create a additional housing units or subdivide an existing lot. Any new housing created because of this bill must meet a specific list of qualifications that protects historic districts, preserves the environmental quality and the look of communities, and prevents tenants from being displaced. This legislation will enable homeowners to create intergenerational wealth and provide access to more rental and ownership options for working families who would otherwise be priced out of neighborhoods.
SB 9 Provides Up to Four Units on a Single-Family lot
Properties zoned single-family can now add a second living unit. Here are the major conditions of the new law:
The property must be in an urbanized area or urban cluster, as designated by the US Census.
New units may include single family homes, duplexes, and Accessory Dwelling Units (ADUs). The minimum unit size is 800 square feet.
The property cannot be in a historic zone, on prime farmland, or environmentally protected areas.
Single family properties may be divided in two (50-50 or 60-40), and the new lots can each accommodate two units, for a total of four.
If homeowners split their property, they must occupy one of the lots as their primary residence for at least three years.
Parking Requirements
One off-street parking space may be required for each unit, unless the parcel is located within one-half mile of a high-quality transit corridor or major transit stop or there is a car share vehicle located within one block of the parcel.
Rentals Properties
Proposed SB 9 projects cannot require the alteration or demolition of any rent-controlled or moderate, low, or very low-income housing. Alteration and demolition is also prohibited for any units occupied by a rental tenant within the past three years. Note that only Fairfax has rent control.
Cities' Responsibilities
Cities must streamline the permitting process. Applications must receive ministerial approval, a permit process for development approval involving little or no personal judgment by a public official.
Cities may impose objective zoning, subdivision, and design review standards, for example, restrictions on lot size, setbacks, maximum building size, and building height.
Cities can exclude the provisions of this act from very high fire hazard severity zones, prime agriculture land, hazardous waste sites, earthquake zones, floodplains that do not have adequate mitigation, and others.
Status of SB 9 in California
A report created by the Terner Center for Housing Innovation at UC Berkeley (January 2023) on the impact of SB 9 found little or limited progress in applying SB9 in thirteen case cities.
Status of SB 9 in Marin
SB 9 became effective on January 1, 2022. Most cities and Marin County adopted temporary ordinances by 2022 to comply with the new law. Jurisdictions in Marin are in the process of adopting permanent regulations for qualified SB 9 projects. Compliance for the following towns has been variable, with some towns appearing to be very cooperative and others noncompliant.
Here are links to the status for each town and unincorporated areas as of August 2023. Check town websites for updates.
*This map shows the extensive unincorporated areas of Marin, including those in Greenbrae, Kentfield, Mill Valley, the San Geronimo Valley, Tiburon, and West Marin.
Adding ADUs on Small Lots
Many towns in Marin have single-family homes on lots less than the currently required minimum of 7,500 sq. ft. Can you split the lot and build ADUs on these lots allowed by SB9?
Since we are close to the Corte Madera Planning department, we started there to find out about small single-family lots. We spoke to a Senior Planner who provided an outline:
You can build ADUs and Junior ADUs on lots of any size.
These additions can exceed the required lot coverage and floor area ratio (FAR).
ADUs from 800 to 1,000 sq. ft. may be built over the normally required setbacks. ADUs of 1,200 sq. ft. require a variance from the town to extend into the setbacks.
Small lots can be split into two lots and each can accommodate ADUs if the two resulting lots are about the same size and one or both lots is a minimum of 1,200 sq. ft.
Most of these requirements are set by the state law, SB6. However, each city/town/county jurisdiction has added specific requirements and exceptions. We highly recommend that you talk to a planner in your town to learn more.
Unresolved Aspects of SB 9
A report created by the Tenant Center for Housing Innovation at UC Berkeley (July 2021) on the impact of SB 9 predicted that due to market conditions and other restrictions statewide, about 1.5% of single-family properties would take advantage of the bill (see page 9 of the report).
These are some of the issues yet to be resolved:
Will mortgage lenders accommodate lot splits and changes in land use?
How will cities deal with SB 9 in areas of high fire risk and special flood hazard areas?
How will zoning requirements impact the ability to add additional units? Cities have some choices under SB 9. For example, cities can require one parking space for each new unit.
Are added units financially practical?
More Information
For more information, please see these sites: