Marin County has approximately 70 miles of open coastline and many convenient destinations within the Point Reyes National Seashore on the northern coast, which encompasses the Point Reyes Peninsula, and the Golden Gate National Recreation Area (GGNRA) on the southern coast. This land is rich with wildlife, beautiful beaches, rugged terrain, and dramatic views. Four of the most popular Marin County destinations are Stinson, Muir, and Rodeo beaches.
Point Reyes National Seashore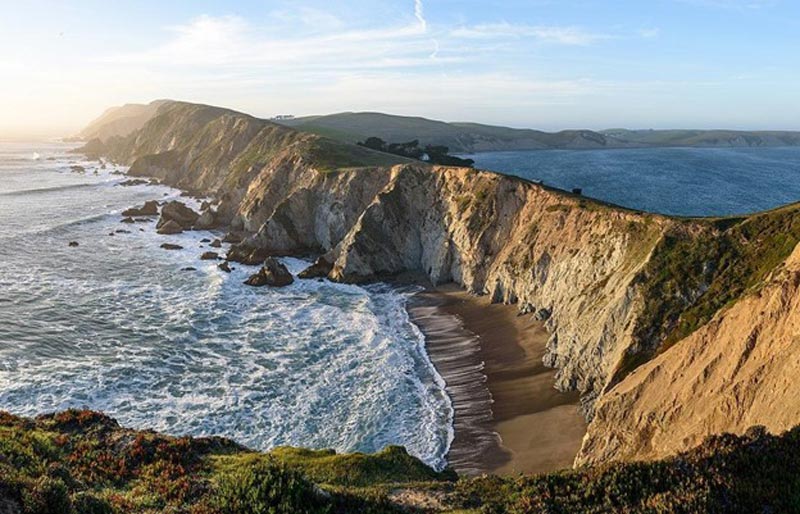 Point Reyes National Seashore includes over 80 miles of nature waiting to be explored. Located in north-west Marin, past the small town of Point Reyes Station, this park protects over 1,500 species of plants and animals, 150 miles of hiking trails, 14 campgrounds and seven beaches, all with unique beauty. You can discover find plenty of activities and destinations including:
Explore this incredible national park for an unforgettable day.
Stinson Beach
Stinson Beach is one of the most popular ocean-front destinations in Marin. On summer weekends, Stinson fills up with beachgoers who come to enjoy the 3.5 miles of coastline and sunny skies. The beach itself is known for mellow waves and soft sand, making it ideal for swimmers, surfers, boogie boarders, standup paddle boarders, and kayakers of all experience levels.
Access to this beach is at the lot in downtown Stinson Beach. The lot can fill up fast on sunny weekends.
Driving to Stinson is an incredible experience with two different routes which feature views of the Pacific Ocean and redwood groves. One route is via Highway 1 from Mill Valley north along the coast. Along the way are Muir Beach with its charming Pelican Inn, Green Gulch Farm, and Zen Center, and the Audubon Canyon Ranch, which includes four separate nature preserves. The other route takes you though Mill Valley and over the mountain via Panoramic Highway.
Features:
Allows dogs on leash in picnic areas and on the county beach
Small town walking distance from beach
The town of Stinson Beach features rental shops, restaurants, art galleries, and vacation homes
Three large parking lots that fill up quick on weekends
Public picnic area and BBQ
Average water temp is 54 degrees, wetsuit recommended
Lifeguard protection in the summer months
Muir Beach
Located three miles from Muir Woods on the Marin County coast is Muir Beach, a quiet cove, beach, and lagoon. Stretching only 1,000 feet along the ocean, Muir Beach draws smaller crowds than Stinson Beach. The beach is popular with families for its kid-friendly tide pools, coastal cliffs, hiking trails, and wetlands. The waves are great for surfing but often large, so swim with caution if you have limited experience.
Features:
Dogs allowed
Public picnic area and bathrooms
No lifeguards on duty, beginners not recommended to swim
One small parking lot
Great waves for surfing
Rodeo Beach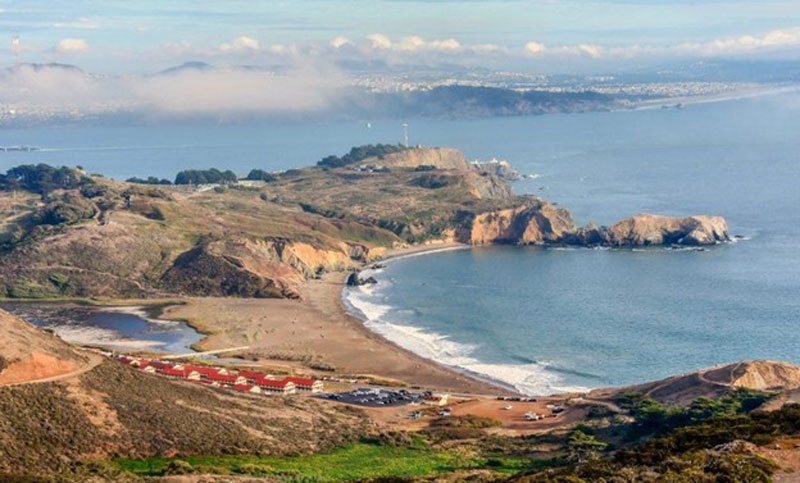 Sheltered by cliffs and encircled by a lagoon, Rodeo Beach is a unique spot which can only be accessed through a one lane tunnel northwest of the Golden Gate Bridge. This beach draws less of a crowd than other beaches, making it a prime location to surf, fly kites, walk your dog, or hike. You'll discover historical structures from WW2, which are now national park service facilities, and a popular surf spot with big waves. Come to Rodeo Beach to find:
Surfing: the best in southern Marin
Massive sand dunes
Popular surf spot next to the northwestern cliff
Old military lookouts on the cliffs
Incredible hikes and views
Tennessee Valley Beach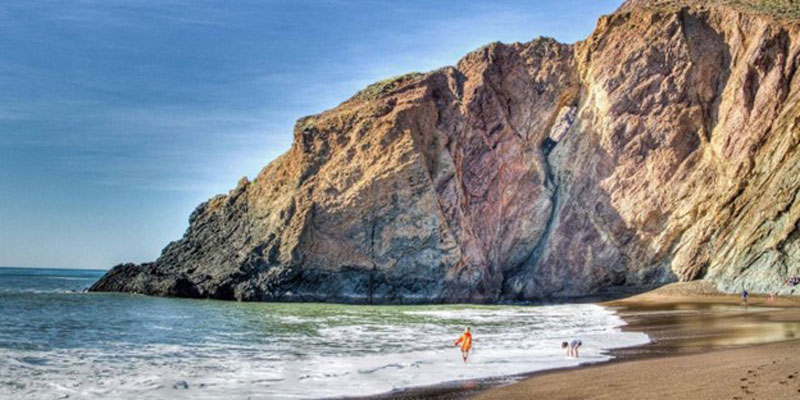 A short drive into Mill Valley from Highway 101 is the Tennessee Valley trail, part of the GGNRA, a level 1.7 mile walk to a beautiful, secluded beach. In the late winter and springtime, the trail presents a riot of wildflowers, in summer golden grasses. The trail is teeming with birds, deer, coyote, and the occasional bobcat. Here are some features of the beach:
Two walking trails to the beach, one is level and wheelchair accessible, the other has a short uphill section with wide views.
Bicycles allowed
No dogs
Often breezy
Wide sand beach
Restrooms available, but not water
Access to other ocean-side trails
West Marin Real Estate
There are relatively few homes in West Marin, but they are prized by those who want a quiet lifestyle surrounded by spectacular nature. Learn more about homes in West Marin at LivinginMarin.com.