Is it worth staging your Marin County, California home before you sell it? Many sellers at every price point object to having their homes staged. Their reasons are that it is not worth the expense, the house looks good, or buyers are still going to negotiate the price, so staging doesn't matter.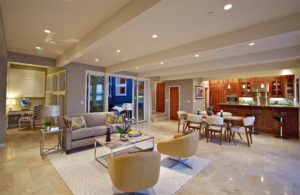 Staging Your Marin Home IS Important
We know first hand that staging your Marin home is more important than ever. Here are some of the reasons
WOW Factor. You know the expression, "You only have one chance to make that first impression." So true in real estate. When a buyer opens that front door, you want to WOW them immediately. It's a subliminal factor that affects a buyer's 'feeling' about a house. Buyers can tell you all the features that they want in a house, but often times, it comes down to a very primal, emotional response.
Most buyers search the Internet for properties. Online viewers have a very limited attention span. If a property is vacant or unattractive, buyers are inclined to skip over it quickly. Staged and attractive rooms will make a much better WOW impression for these buyers, and more often they place house on a their "lets see it" list.
It is a buyer's market, and buyers are more particular than ever about the appearance of properties. They have more to choose from and can take their time.
A staged home will attract more buyers.
Staging often define spaces in a house and show buyers how they might use these spaces.
Staging will neutralize a home so buyers can see themselves in the home, and not the sellers.
Buyers will stay longer in a staged home. They have somewhere to sit down and relax, look around the room, chat with their families, and see themselves living there.
Staged homes can focus the buyer's attention on the positive aspects of the home and take away attention from any possible flaws.
Buyers perceive that the seller has carefully attended to the overall care and maintenance of the home, since it is staged and well presented.
Staged homes will net the seller a higher sales price, with fewer days on the market. The longer they are on the market, the lower the sale price.
What is Staging?
Staging can take can involve different tasks from remodeling to organizing. Madeline Schaider Real Estate can facilitate sellers in identifying which level of service is needed:
Extensive remodel. In the house shown here, we supervised for our seller a massive clean out, painting, carpeting, created better living spaces, replaced appliances and light fixtures, repaired plumbing and installed new kitchen counter tops and custom flooring.
Cosmetic remodel. Painting and flooring (carpeting or refinishing wood) are important and of relatively low cost. Painting may be required inside and out. These two improvements are the two most inexpensive items that a seller can do with the highest visual impact and return.
Landscape maintenance. Street appeal is important for selling a house, as this provides the buyers' first impression of a house. In most listings, we recommend and oversee yard cleanup, lawn renovation or replacement, planting flowers and shrubs, repairing and refinishing decks, and more.
Repair of water and pest damage. We always recommend a pre-sale inspection for pests (termites, etc.) and rotted wood. As buyers often require repair or compensation for "section 1" damage, getting this done up front can reassure buyers that the house has been well cared for. This inspection, which costs a few hundred dollars, saves the seller money—sometimes a large amount—by the end of sale.
Furnishing an empty house. We engage a professional stager to bring furniture, artwork, and accessories into a vacant home. It is most important to have the entry level furnished as this gives buyers their first impression. In some houses, it is also important to stage bedrooms, and more. When it is time to stage your home for sale, Madeline Schaider Real Estate can introduce you to the appropriate stagers and supervise the process.
Re-organizing a very presentable house. Buyers respond best to a simple and uncluttered house. We often help sellers simplify their home by packing up or reorganizing their possession. Even valuable artwork or collections of fine artifacts can overwhelm buyers and prevent them form seeing the possibilities of living in a house. A "neutral" house is more appealing to buyers.
Robert Ross, the Structure and Design Consultant for Madeline Schaider Real Estate, provides guidance on these changes, free to our clients. See our web site for more about Robert Ross.
What happens if you pass up staging?
A house that is not staged will very likely attract fewer buyers and few or no offers. And, the longer it is on the market unsold, the lower the final sale price—this was true in a strong sellers' market of a few years ago, but more so now.
Over the last two years, sale prices decreased 10-13% for houses that took 3-4 months to sell (data from the Marin MLS). For a $750,000 house, this loss may be $75,000 to $100,000. This is a great deal more than the cost of staging! Investing $2,500 to $25,000 to prepare a house for sale can more than pay for itself.
When it is time to stage your home for sale, Madeline Schaider Real Estate can introduce you to the appropriate contractors and stagers.