Victorian Cottages on Tree-Lined Streets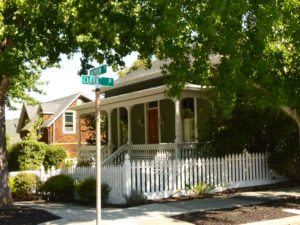 Gerstle Park, at the southern end of San Rafael, provides a variety of Victorian homes from the late 1800's and early 20th century. Some of the original homes were built as summer residences for San Francisco families, including two adjoining estates for the Gerstle and Sloss families. Gerstle Park, a center for community activities, was the site of the Gerstle family home.
The Advantages of Buying a Home in Gerstle Park
Gerstle Park has a wonderful location in Central Marin, close to downtown restaurants, movies, and shops, yet isolated from noise and traffic. It is just over the hill from Kentfield and Greenbrae, but skits the premium home prices in those neighborhoods.
Many of the homes are intimate and charming. If you you like period homes, they are affordable here. In 2015 and 2016, 21 single family homes sold in Gerstle park, with a price range of $790,000 to $1,530,000 and a median price of $1,150,000.
The schools are very good to excellent. Sun Valley Elementary (K-5) is centrally located as is the innovative Short School (K-5). Well-respected Davidson Middle School is nearby.
The bucolic Gerstle Park provides evening walks and and a center for community activities promoted by the Gerstle Park Neighborhood Association.
More About Living in Gerstle Park
The Gerstle Park Neighborhood page at LivinginMarin.com provides a photo tour of the neighborhood and more attractive features.