Contemporary Craftsman Home in Corte Madera
This contemporary Craftsman home at 141 Hill Path is a hidden gem on Christmas Tree Hill in Corte Madera. At the end of the 19th century, San Francisco residents discovered the views, good weather, and charm of this private and exclusive neighborhood and purchased lots for their summer retreats and permanent housing. This hill still has only 250 homes along its meandering roads, paths, and stairways. In about 1910, a bungalow was constructed at 141 Hill Path which has evolved into a modern home with 5 bedrooms and 3.5 baths in 3,270 sq. ft. plus a studio of about 300 sq. ft.
Video of 141 Hill Path
A Generous Floorplan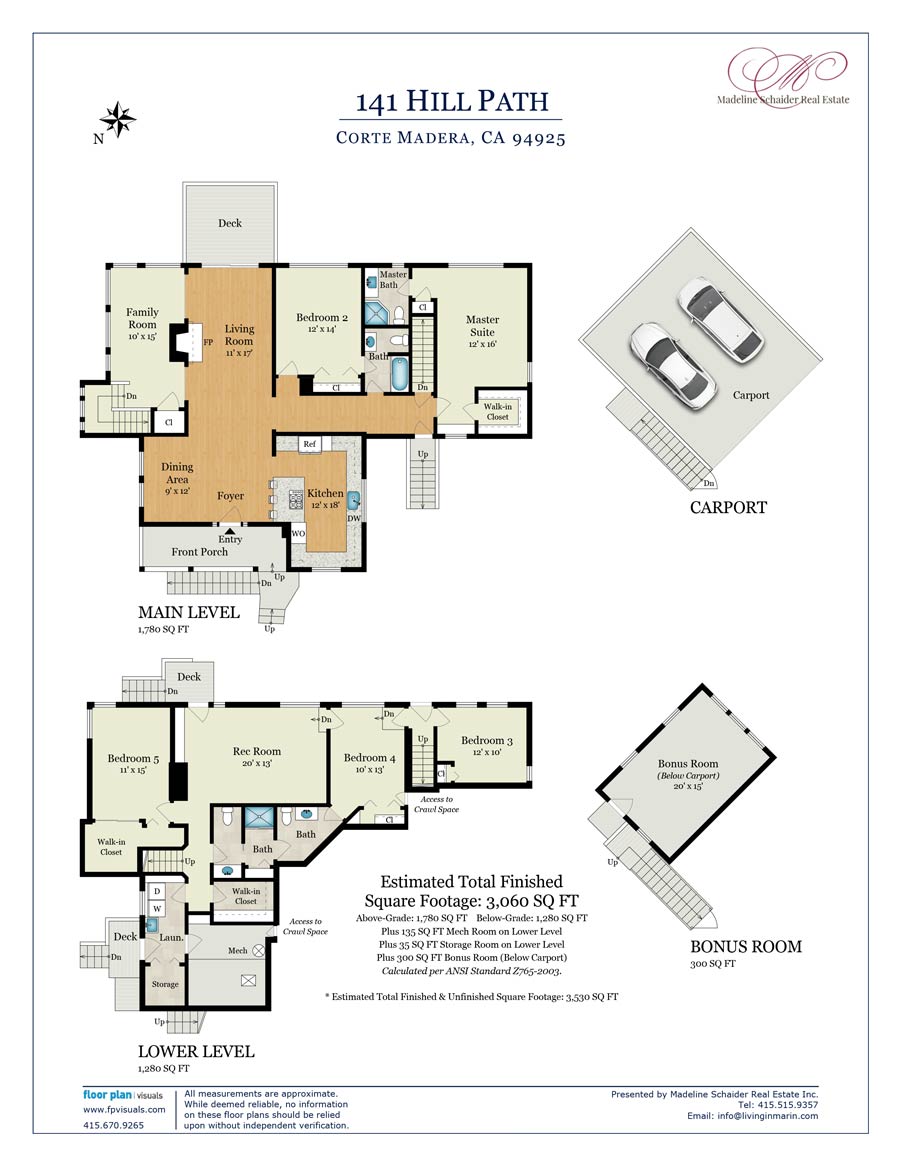 Upstairs
Enter the front door through a charming porch to the open dining room, kitchen, and living room. To the right is a chef's kitchen with soapstone and quartz countertops, cherry cabinets, an island island with seating for four, stainless steel appliances, and brass faucets. The living room has a wood-burning fireplace with a custom tile surround and wood mantel. The adjoining deck and sun porch/family room provide stunning water and hill views. Two bedrooms on this level have ensuite bathrooms and the primary bedroom has a walk-in closet.
Lower Level
Stairways at either end of the house lead to the expansive lower level with three bedrooms, two walk-in closets, 1.5 baths, a large family/media room opening up to the backyard and hot tub, a laundry room, mechanical room, and large, cdar-lined storage closet. The bathrooms on this level are partitioned into three adjoining rooms, two half baths and a central shower room. The family room has access to a hot tub in the garden. All rooms on the lower level have unusually high ceilings, providing light and a sense of space.
Parking Deck and Studio
A private parking deck on Redwood Ave can accommodate four cars and is equipped with an electric vehicle charger. Under the deck, a newly renovated bonus room, with a high ceiling, is perfect for an office, exercise room, art studio, or workshop.
The Gardens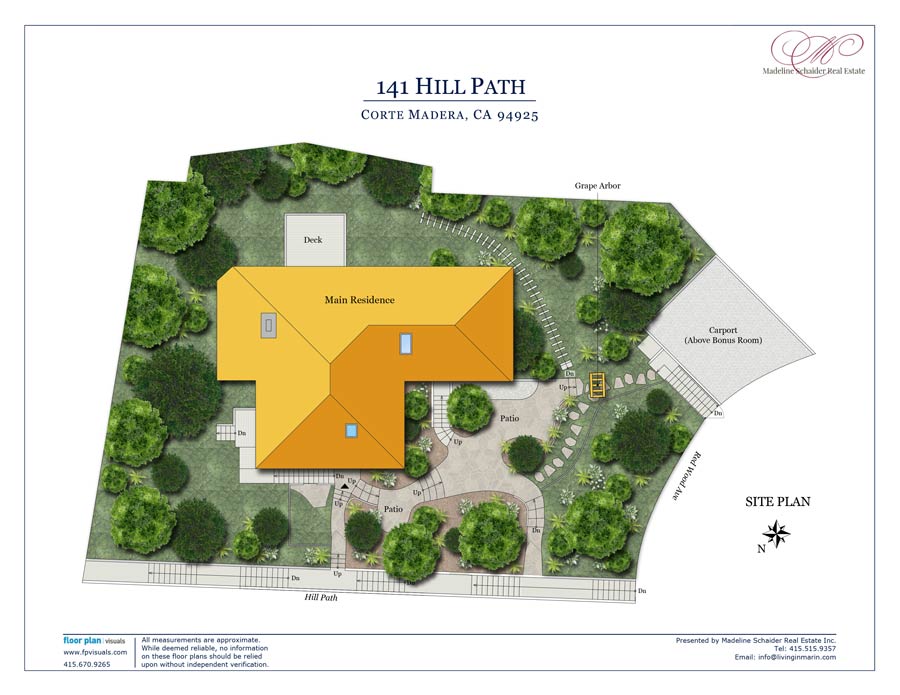 141 Hill Path is surrounded by fenced, landscaped gardens with levels areas for recreation and entertaining.
Features of the Garden
Oak, bay, redwood, and fruit trees
Bluestone patios and paths surrounding the house
Gates to the Hill Path stairs
Grape arbor
New water conserving landscaping
New irrigation system
Large level area on the east side that can accommodate play areas
Hot tub convenient to the family room
Upgraded with Care
The present owners of 141 Hill Path have thoroughly renovated every aspect of this home in the last 24 years, including:
Two new bedrooms and 1.5 baths
A second family/media room
Laundry room, walk in cedar closet, and utility room
Second stairwell connecting the two floors
New windows
New foundation elements and seismic upgrades
New roofing
All new kitchen
Renovated main bath
Renovated 300 sq. ft. studio under a new 4-car parking deck
New carpeting, new and refinished oak floors, all new paint inside and out
New landscaping
See Features of 141 Hill Path for the details, dates, and additional features.
Convenient Living
Three minute drive or six-minute walk to the town square with cafes, wine bar, and services
Ten minute drive to Highway 101 and shopping at the Village Shopping Center
Twelve minute drive to the ferry terminal at Larkspur Landing
Six minute drive or 20-minute walk to Neil Cummins Elementary School
Five minute drive or 20-minute walk to downtown Larkspur
Twelve minute walk to hiking trails
Award-Winning Schools
Corte Madera and the adjacent Town of Larkspur share an award-winning school district with two-elementary schools and one middle school
Redwood High Scholl, with about 1,900 students, serves Corte Madera Students. Overall score on GreatSchoolg.org of 8/10. 11-min drive. 8-minute drive, 30-minute walk.
Christmas Tree Hill Neighborhood
These photos tell the story.
History of 141 Hill Path
In 1896, developer Emma Catharine Pixley and her sons formed the "Merry Colonists Tract" on Christmas Tree Hill. Using horse, cow paths, and stairs, they divided the Hill into 2,500-sq-ft lots for tent cabin, offering them for sale for as little as $50 each. Vacationers from San Francisco would take a ferry to Sausalito, then a train to the base of the Hill in Menke Park, where they disembarked and walked up to their camping spots. See more of the history at Corte Madera Memories.
In about 1910 (the exact date is unclear), buyers of two lots at 141 Hill Path built a small bungalow with a wrap-around porch, which overlooked the Bay. The home stayed relatively unchanged through the First World War, the Great Depression, and the Second World War.
When the present owners moved here in 1996, they met Betty, a neighbor who had lived for over 50 years in adjoining 131 Hill Path. She told them about her uphill neighbors, Captain Morris and his wife, who lived in 141 in the 1950s. The Morrises often sat in the evening on their screen porch, now an enclosed sun porch, playing records of Hawaiian music, remembering his WW II times in the Islands.
In 1967, a different family acquired the two 141 lots, plus the two lots above, reaching up to Redwood Ave at the top of the Hill Path stairs, bringing the total lot up to nearly 10,000 sq. ft. They built a 3 BR, 2 BA home, incorporating the original single-level bungalow.
In August 1996, the Kunhardt family from Boston acquired 141 Hill Path. In 1998, they built the 4-car deck with bonus room underneath. In 2003, to make room for their expanding family and add seismic integrity to the home, they (with neighbor and architect Michael Harlock), significantly upgraded the lower level, adding two bedrooms and bathrooms, plus a walkout family room, laundry room, and storage, bringing 141 Hill Path to its present size of about 3,500 square feet.
Learn More about Living on Christmas Tree Hill
Find out more about Christmas Tree Hill and living in Corte Madera.
&nbsb;
Property Details
Price: $2,300,000
SOLD: $2,310.000
Address: 141 Hill Path
City: Corte Madera
State: CA
Zip: 94925

Beds: 5
Baths: 3.5
Square Feet: 3,500
Garage: 4-car deck
Year Built: 1910-2020
Status: SOLD
&nbsb;
&nbsb;
&nbsb;
Contact Us About This Property