In recent years, Madeline Schaider Real Estate facilitated the addition of properties to existing open space preserves in the hills of San Rafael:
In 2017, our client sold 3.1 acres in San Rafael, adding to the 33 acres of Oakwood Open Space. This sale for $399,000, paid by neighbors, was managed by the Marin Open Space Trust.
In 2022, another client donated a 2.6 acre parcel near Gold Hill Grade to the City of San Rafael. This was a welcome addition to Barbier Park.
Acreage Sold in San Rafael for Open Space
Madeline Schaider Real Estate listed and sold 3.1 acres in San Rafael, providing access to the 33 acres of Oakwood Open Space. This ridge-land separates the Gerstle Park neighborhood of San Rafael from Upper Toyon Road in the Town of Ross.
Historic Trail
The main trail through the land, once part of the 1879 San Rafael to Bolinas Stagecoach Road, is also known as the Makin Grade trail. The wooded ridge through the open space provides hiking opportunities and views of San Rafael and the Bay.
The trail into the open space begins at the end of Greenwood Ave. A plaque set in a rock records this contribution to open space.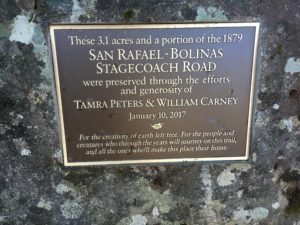 Neighborhood Action
Madeline's client's bought the two, undeveloped lots over 10 years ago, with the hope of building a home. Family and work changed their plans. Adjacent neighbors, Tamra Peters and William Carney, teamed up with the Marin Open Space Trust to buy the land and donate it to the Town of San Rafael. Peters and Carney, with the support of 175 neighbors, provided the purchase funds and the enthusiasm to promote this addition to the town's open space.
Celebration
San Rafael Mayor Gary Phillips and neighbors dedicated the new open space at the Greenwood trail head on Saturday January 14, at 1:30 pm. All who helped save the land, the donors, neighbors, and leaders from the Marin Open Space Trust, San Rafael Heritage, and the Gerstle Park Neighborhood Association, were be on hand. Madeline Schaider joined the celebration.
Donated Land Complements Barbier Park in San Rafael
Madeline's clients owned this 2.6 acre parcel surrounded by San Rafael Open Space and the Harry A. Barbier Memorial Park. The land has no street access. Madeline worked with the city, the Marin Open Space Trust, the owners, and the title company to set up the transfer. The city accepted the land, and the owners benefited from the charitable contribution.