A Hidden Gem for Real Estate in Mill Valley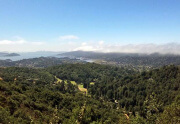 The hills, valleys, and canyons of Mill Valley provide many secluded and beautiful residential neighborhoods. Tucked into the hill that separates Mill Valley from Corte Madera is Scott Valley, a small community in the middle of everything, but far from daily traffic and noise.
Scott Valley Homes For Sale
Scott Valley has about 180 homes. In the last three years (2104-2016) four to to nine houses sold each year for an average price of about $2.5M.
You can learn more about Scott Valley, and see a photo tour at LivinginMarin.com.
If you are interested in buying a home in Scott Valley or even in just taking a look at available real estate, please contact real estate broker, Madeline Schaider.
About Madeline Schaider Real Estate
We LOVE Marin and our passion is Real Estate. Madeline Schaider Real Estate is a boutique Real Estate company with over 25 years of experience. Whether you are looking to maximize the value of the home you are selling or want help finding your ideal new home, we go the extra mile with personalized attention and creative problem solving so that you realize your real estate dreams. We represent buyers and sellers in Sausalito, Mill Valley, Tiburon, Belvedere, Corte Madera, Larkspur, Greenbrae, Ross, Kentfield, San Anselmo, San Rafael and Novato.
Our full service approach serves your needs first, even if it's help finding a mortgage broker, help with a remodel, or just a referral for a dog walker. We put your desires and needs as the top priority. We are experts at finding hidden properties for sale in Marin whether they are on the MLS or not. Please contact us with any questions. We are here to help you find and close the deal on your ideal new home or to ensure that you get maximum value when you sell.